---
Written by Alice Munley
---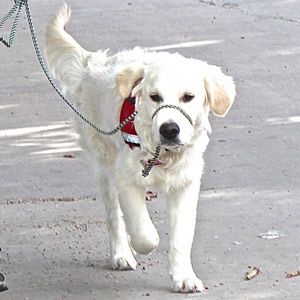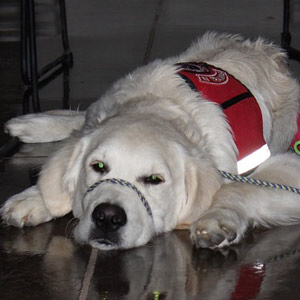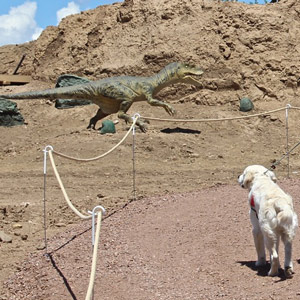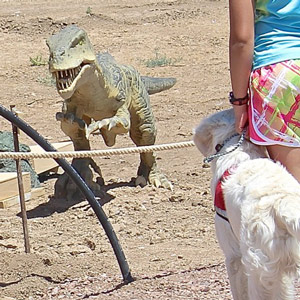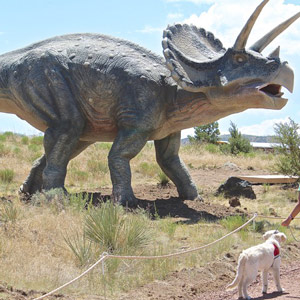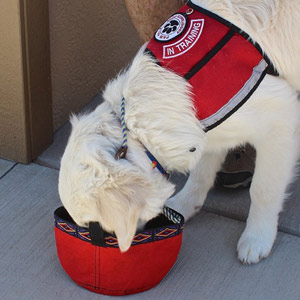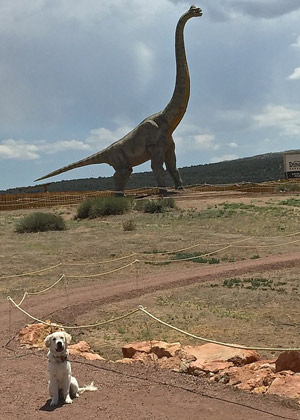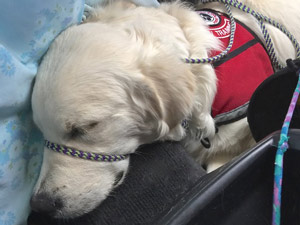 As summer in Colorado came to an end, Cam'O experienced one more exciting adventure.
Cam'O's next experience, a little different kind of adventure for a puppy, was a "trip back in time."
To find a new and challenging socializing experience for Cam'O requires some creative thinking on my part. As I reviewed some ideas, I remembered there was a great educational adventure not too far from our home. Colorado is known for some great dinosaur discoveries. One area is Dinosaur National Park that sits in the northwest corner of our state with a huge building encasing an actual dig of a dinosaur still partially buried in the ground there. That's a little too far for us to travel in a day, but I remembered there was a new museum and interactive educational area just a few miles west of us, simply known as the Dinosaur Adventure. And indeed, that was to become a fun and very different adventure for our growing service puppy in training, Cam'O.
After a short drive from home, we found ourselves in the parking lot of Dinosaur Adventure.
Off to the side of a new attractive building, housing exhibits and films in a museum, were many life-size, interactive dinosaurs, moving and making loud and gruff dinosaur like sounds. Whoa! I began to wonder if these large predatory-looking and -acting creatures might be too much for a young and still maturing puppy. We were soon to find out.
"He exhibited great social skills and showed no sign of any fears on this outing, in spite of those enormous creatures making some very fierce and robust noises."
As we entered the building we saw a sign indicating that they welcomed service dogs but would ask for "proof" of a dog's status as a service dog. Hmmm! While I was not concerned about Cam'O, as he is in training, I was concerned about the sign that suggested they might ask for "proof" of a service dog accompanying their disabled partner. The law does not allow a business to require proof. Understanding that this was a new facility and that they may not fully understand the law for service dogs, I took a few minutes to gently discuss the law requirement for service dogs, expressing my understanding of their concern for fake service dogs. The presence of pet dogs falsely presented by their owners as service dogs is a serious problem. We all know about those situations and know how that adversely affects the legitimate service dog teams.
Service dogs provide a wide variety of services, many of which are not visible to the general public.
I expressed that the establishment could ask any service dog team to leave their facility if the dog was misbehaving or acting aggressively. While I don't feel I can speak officially on behalf of service dog teams, it is my goal to educate others as best I can to the needs and legitimacy of service dog teams and their rights.
Cam'O was warmly welcomed into the museum as a Paw Pals puppy in training.
And, as happens many times, folks around us expressed delight in this beautiful and well-behaved puppy. The exhibits within the museum were a gentle introduction to the more "lively" large ancient creatures that Cam'O was soon to meet on the trails outside. While still in the museum, we took time to relax in the movie theater and watched a great movie on the history of dinosaurs and their discovery in this part of Colorado.
As we ventured outside, Cam'O seemed unaware of those big critters towering over him.
And from a distance they may have appeared to be of a more normal size. As we approached the first dinosaur, Cam'O hesitated just a little as he heard that unusual roar coming from the direction of that strange looking and very large animal. He continued to move towards this noisy object with little to no reaction. Is it just his age and that he's not all that interested in this scenario at this time in his development? If I bring him back in a few months, he might have a totally different reaction.
While Cam'O isn't likely to run into dinosaurs on a normal outing, this unusual experience offers very different images and sounds that help prepare him for anything out of the ordinary when he is working as a service dog. We want him to be relaxed enough around all objects of any size, color or sound. As he becomes relaxed in all situations, he'll not take more than a minor glance as he continues on his path to life as a service dog.
The dinosaur trails outside circled around for at least a quarter mile with many more types and sizes of dinosaurs situated along the way, producing multiple loud roars. Cam'O seemed very ready to meet and greet each one. He did great as he viewed and heard them first from a distance and then up close—even close enough to go right up and give them a good "sniffer" test. Lacking any noticeable animal odor, Cam'O appeared relieved that this creature presented no threat.
After our successful adventure with the dinosaurs, we journeyed on to a nearby town and made a stop for pizza and some socializing around the town. Cam'O is showing great manners in restaurants, too. He goes right under the table on command and remains there until he's allowed to come out. Sometimes we take a long time to enjoy our meal, but he hangs in there waiting patiently for us.
While this was a trip close to home, we spent the entire day exposing Cam'O to these new experiences.
He exhibited great social skills and showed no sign of any fears on this outing, in spite of those enormous creatures making some very fierce and robust noises. It was an A+ outing full of new and unusual experiences for our dear little Cam'O.
---