---
Written by Amie Chapman
---
A couple of months ago, one of my coworkers came in for her shift and had two baby puppies with her, only a few days old.
It only took a couple of weeks of seeing them while at work for the foster bug to hit me. I knew kitten season was upon us and that there would probably be kittens in need of fostering (every spring/summer someone brings in kittens that they have found). But puppies needing fosters are pretty rare, and puppies were what I was hoping for. I have only fostered puppies about four times in the last 18 years of working at the veterinary clinic, but have fostered over 40 kittens so I knew the chances of puppies in need of foster would be unlikely. I put the word out with my coworkers that I would be available if needed, but was hoping that if needed it would be after Arturo left us for formal training and we were closer to summer.
"My days are more hectic than usual but I wouldn't trade it for anything—these guys are great puppies.."
Well, be careful what you ask for. Almost four weeks ago now I got a text message from my coworker, who was already fostering the two puppies, asking me if I was interested in fostering six three-week-old puppies. Well, six puppies is a lot of work for one household, so I offered to take three. And yes, three is still a lot of work.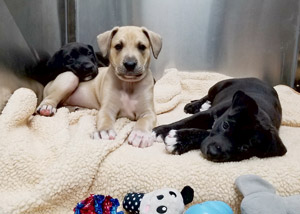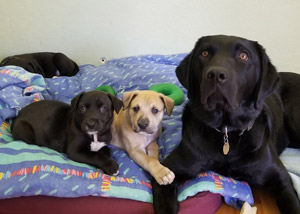 Bianca, Bernard, and Penny are our new additions and they have grown and developed so much in the time they have been here.
When they first arrived their teeth were just coming in and they were very wobbly when walking. Now they are are running, climbing, playing, and biting everything. We have even been able to start potty training and leash walking the pups.
My days are more hectic than usual but I wouldn't trade it for anything—these guys are great puppies.
Our day starts out with letting the puppies out of their exercise pen (they sleep in a crate with the door opening into an enclosed exercise pen) and placing them outside to potty and play. Then we get the other three dogs up and pottied. Food is then prepared and everyone eats while the exercise pen gets cleaned. Let's just say three baby puppies are not able to hold poop and pee overnight just yet and are not exactly clean. Then it is time to clean up the potty left behind after eating and more play time for both the pups and the other dogs. Then it is nap time; baby pups tire out pretty quickly, and I can check e-mail, have breakfast, and do other household duties before we need to do our daily walk. And yes, the puppies are now joining us on our walks, but in a cart that they sit in. They don't have vaccines yet and it isn't safe for them to be walking on the ground where other dogs are common. But we want to start getting them used to sights, sounds, and smells outside the house and the cart is a safe way to do it.
After our walk it is lunch time for the pups, followed by more playtime, clean up after more poop and pee and if time a little clicker training and leash walking (only about five minutes per puppy since their attention span is super short right now). Then they crash and Arturo can join me for any errands that might need to be run or other household work. During the afternoon, the pups have periods of napping, cuddling, and playing. During that time I am keeping constant watch for when they wake up or show signs of needing to potty so I can make sure to get them outside. It is never too early to start good relieving habits. As you can imagine trying to potty train three puppies at once is a challenge, but I'm doing my best.
I wasn't sure what my plan was for these guys when they arrived, but after seeing how bonded they are to people I started looking for service dog organizations that were willing to take donated and mixed breed puppies. I found a couple possible matches and we are still working out arrangements and will announce the final plan once everything is all set up. For now, Matt and I are doing everything possible to give these puppies the right start for service dog work.
As for me, my days are a little more busy, I do a lot more clean up than usual, and when I crawl into bed at night I have no problem falling fast asleep. These puppies who were once unwanted and a "burden" for someone else are now seen as a blessing. They have brought joy to us with their snuggles, puppy kisses, and zest for life. They will soon bring new adventures to their future puppy raisers, and hopefully bring a greater sense of independence to someone who needs it. Stay tuned for more adventures from Bernard, Penny, and Bianca named after Disney's The Rescuers. Here is to hoping that turn from the rescued to the rescuers.
---