---
Written by Colt Rosensweig
---
Today, I shall expound on my love of all things Ruffwear.
(Disclaimer: Ruffwear is a sponsor of GUGP, but I loved their gear way before that, just saying.) Ruffwear isn't a company just for service dog gear—their gear is for any dog, especially active ones. But they do offer a substantial discount on their products for service dog handlers, as well as certain other people who work in the dog industry.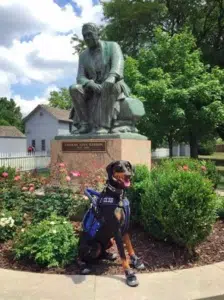 Ruffwear makes a ton of different gear, including but not limited to outerwear, backpacks, harnesses, and boots.
Again, all of this can be useful for pets as well as working dogs. For instance, all dogs should have paw protection they can wear either in case of heat—pavement can reach extremely uncomfortable temperatures in direct sun, even if the general temperature is comfortable—or cold/salt. Paw protection is even more important for service dogs, who have to be out in a lot of situations where a pet dog could be left at home. They're also more likely to encounter hazardous or annoying things on the ground, like broken glass or discarded chewing gum. (I still remember when Juno stepped in gum while wearing her boots. Instead of having to cut disgusting gum out of her paw fluff, I easily peeled it off the sole and off we went. It was glorious.)
My favorite boots—Ruffwear has multiple kinds—are the GripTrex, which are great for hot weather.
Living in the Bay Area, my dogs don't encounter snow or salt on a regular basis. The GripTrex are very comfortable, as far as dog shoes go, and are very well designed in terms of their shape and Velcro closure. They also come in black now, which in my opinion is completely perfect for service dogs. Any dog wearing shoes is going to get a ridiculous amount of attention (which gets really old, really fast) but red shoes definitely attract the eye more than black. And black goes with everything. Perhaps that's why I'm crazy for black gear.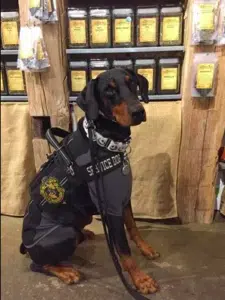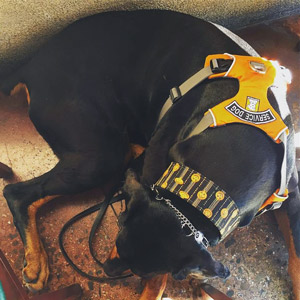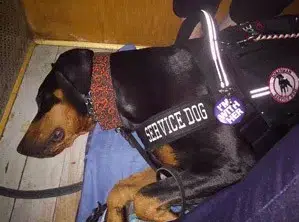 Ruffwear coats and jackets are also excellent.
Peruse the selection of coats at your local pet store, and you soon realize that they do a great job of covering a dog's back, and basically nothing else. If your dog is going to be out in cold and/or wet weather, the really important parts to cover are the chest and the belly. The Cloudchaser—which comes in black!—does an excellent job of this. It's almost magical in its ability to repel water and dirt. Plus, thanks to its sleekness, it's basically the perfect coat to go under any and all service dog gear. It won't bunch up no matter what you put on top of it—it's almost like a wetsuit in terms of fit. And again, black looks sharp with any gear.
For a service dog who needs to carry items for his or her handler, one of the backpacks can be a great option as well.
They're extremely well made and designed with the dog's comfort and safety in mind. Like all Ruffwear gear, they look quite professional and can be accessorized later with patches if the handler desires. Then there are the travel mats/beds. Of course, not all service dogs like or need a mat when they do long downs at places like restaurants, movie theatres, or sporting events, but for those who do, the Mt. Bachelor pad is perfect. It rolls up for easy transport, and it's waterproof on the bottom. And if you're me, and you lose everything, it's a lot more efficient to get a mass-produced mat than a lovely travel mat made by a craftsperson. (Yes, I was very sad when I lost that one. And it took a long time to replace it. Ruffwear can replace my lost stuff in a day, if necessary!)
The customer service is amazing as well.
Ruffwear employees are great at aiding indecisive people in their shopping, as well as providing advice on things like sizing. (Pro-tip: Don't size up on coats for male dogs. Trust me.) And if anything about your product is defective, even slightly, they will quickly send you a free replacement. Kaline, being weirdly shaped, tends to rub certain parts of his Front Range harnesses into fuzziness, and Ruffwear has always been willing to replace them.
We have far more Ruffwear gear than is strictly necessary.
And I have wacky plans to get more; it's always exciting when they come out with new colors, plus I live in fear that black will get discontinued as a Cloudchaser color, so I always have to get backups. Hopefully, you now feel a burning need for Ruffwear gear for the pup in your life!
---