---
Written by Marcia J. Wick, The Write Sisters
---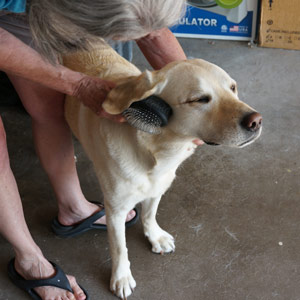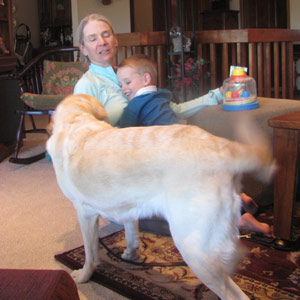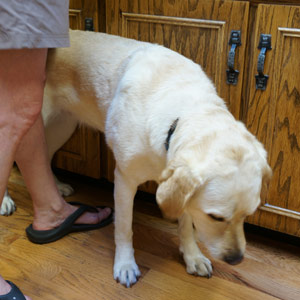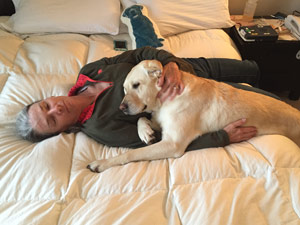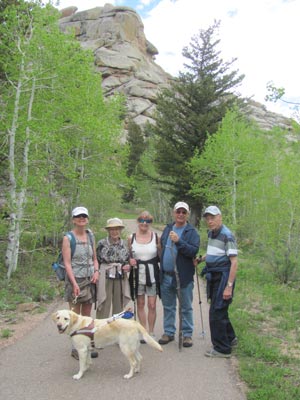 You may not want to hear this, but there is a downside to living with my guide dog, Viviane.
I know, I know how cute those guide pups can be, but believe me when I say that living with a full grown guide dog can be another story altogether!
First of all, the dang dawg never leaves me alone. I know it's Viviane's job to guide me, and we rack up the miles around town so she can earn her daily allotment of kibble. But enough is enough! I mean, Viviane is there staring at me and licking my face before I am even out of bed in the morning. Then she follows me everywhere I go.
Even in my own house where I don't need a guide, she lurks nearby all the time, just keeping an eye on me.
Viviane may look like she's snoozing but the second I sneak off the couch for a potty break, she leaps up to escort me there and stand vigilant until my business is done. Heck, what am I saying? She pins me to the toilet by parking her front paws in my lap while she kisses my face encouragingly. I know I rave and reward Vivi when she does her business on my command, but she's trained to go with an audience. I am not!
And lest I forget she is near, she noses her sweet svelte self neatly into the smallest gap between me and the bathroom sink while I am brushing my teeth, or plops herself down on the six inches of floor space between my toes and the kitchen counter while I try to spread jelly on my toast. Viviane sets up an obstacle course with the multiple toys and bones she plunks at my feet as gifts while I am trying to get dressed. Then, she neurotically perches her head on the knee she knows I must lift in order to put my sock on! Next thing I know, I am pinned to the bed by a pooch who is so anxious to walk that I cannot finish putting on my pants. Argh! Don't even get me started on what it takes for me to find my walking shoes!
Later, when I want to sit quietly while reading a book, Viviane moans begrudgingly but is soon snoring so loudly it causes me to have to increase the volume on the talking book player. And when I groom her near the garbage can in the garage, she refuses to leave my side until I have cleaned her brushes and swept up a handful of her soft yellow fur. "Inside," I command, but she only stares soulfully and remains firmly planted. Can I help it if she adores me?
Plus, the worst thing of all?
If I dare venture out with a trusted sighted guide or the less-interesting white cane, all I hear from my friends and family is groans, complaints, and warnings that next time I had better bring that darn dog!
---
Marcia J. Wick is a guide dog handler
---