---
Written by Ricki (as told to Amie)
originally posted December 17, 2015
---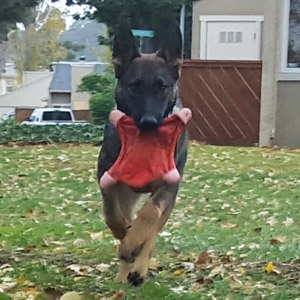 Where does the time go?
It seems like just last month Patrick was a little puppy—now my little brother is bigger than I am! He hasn't just grown in size but in knowledge as well. He has been a pretty good boy and I have been trying to teach him as much as I can. He knows all his basic commands pretty well now, and is getting really good at posing for photographs. I often look unhappy in my photos because doing obedience skills makes me nervous. I don't like messing up and being wrong. Mom and Dad are really nice to me if I make a mistake, but I hate disappointing them.
"Now if I can just get through to him that we aren't supposed to bark at other dogs, and to stop trying to pull when walking he would be awesome."
Patrick doesn't pester me nearly as much as he used to.
We can now go outside and play as a family in the yard. Mom and Dad used to have to take Patrick out by himself instead of with Ozzy and me. Patrick was really bad about chasing me and trying to herd me. I didn't like it very much and got a little nervous about running after my ball when he was out with us. Now that he knows to play with his own toys instead of nipping at me while I run, it's so much better. I run after my ball and he runs after his own toys. We still play tug a lot, and now that he is bigger and stronger Ozzy comes and helps me—we double team him.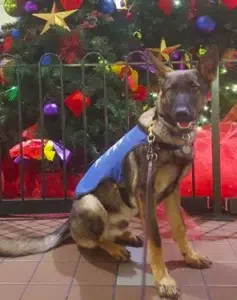 I (Ricki) am at the keyboard wrapping up this blog.
Ozzy seems to have finally accepted him as part of the family and is playing with Patrick a lot more these days.
Ozzy playing with him has helped take some of the responsibility of teaching Patrick manners and have more time to myself to enjoy chewing on my bones. Mom has been trying to do special outings with me as well so I don't feel left out. She spends a lot of time with Patrick, since he is even more needy than I am!
But I have to say Patrick is doing pretty well.
Now if I can just get through to him that we aren't supposed to bark at other dogs, and to stop trying to pull when walking he would be pawesome. I try to show him by example, but he is having a hard time paying attention when other dogs are around or if he is really excited to be going out. Oh well, I guess I will keep trying.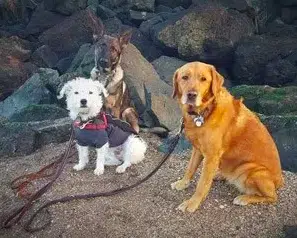 This boy has even more energy than I do! But he is also doing much better about being calm and quiet in the house.
He finds toys by himself now rather than trying to steal mine. Patrick has also being going out more by himself in his blue jacket. This makes me happy that he is out working and learning about his future job, but I don't like being left home. At least I have Ozzy with me. I'm so happy that we kept him. He is my best friend. Well, it looks like it's about bed time here, so I better go claim my spot next to Mommy before Ozzy or one my kitty siblings takes it. She's my mommy! Just kidding—I will share her.
Wags and kisses,
Ricki
---