Written by guest blogger Marcia J. Wick, The Write Sisters
Photography by Jennifer M. Walford, The Write Sisters
---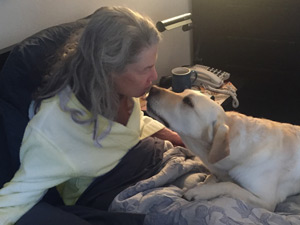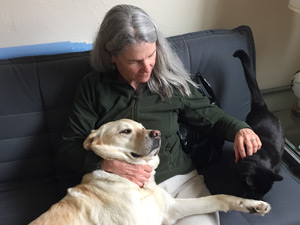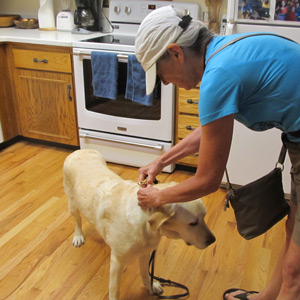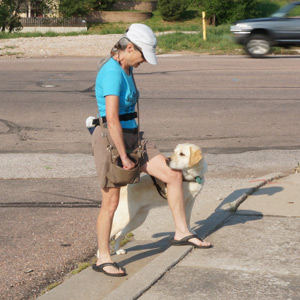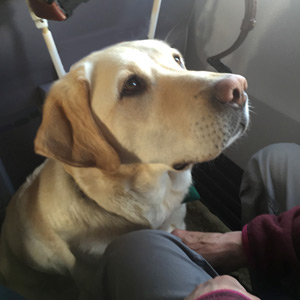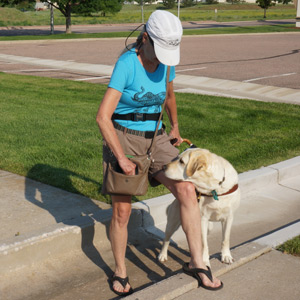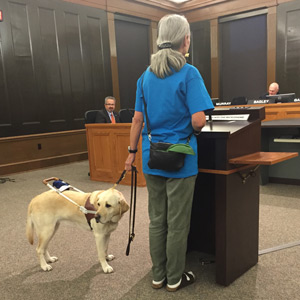 Okay, okay, I am getting up now …
"If you would only stop licking my face and pressing me with your front paws back down onto the pillow. Now, just let me grab some breakfast and get ready. Of course, I will fix your breakfast first, girl!"
You don't have to follow me everywhere.
"I just have to go to the bathroom. But of course, after you, Viviane. I know, I know you are waiting. Let me catch some news and figure out if we will need rain gear. Sweet pea, I can't lift my leg to put my shoes on while your head is hanging on my knee."
"Let's make sure the kibble bag is restocked. Fill 'er up and, of course, here's one for you, Viviane. Now, let's freshen up the water bottle."
"OOOOOOOO OOOOOOO OOOOOO!"
"Oh, Vivi! Are you singing your walking song? Do you want to go for a walk? You do?!"
"OOOOO OOO OOOO!"
"Stop prancing so I can put your collar on. That's a good girl, Viviane. Easy now, let's leash up and head out back."
"Left, that's right! Wait while I open the door then, easy, let's go. Forward! And right, good girl. Hop up. Oh, a crack, thank you. Forward. Hop up, oh, a tree! Good job, forward. Find the curb. Atta girl! Forward. You found the curb, good job! Here's a kibble."
"Now, right, atta girl. A bush, good job, forward. Find the curb, good job—now wait. Okay, all quiet, forward. Good job, you found the curb. Here's a kibble. Forward. Ah, this must be the intersection. Left, find the bench. Good girl! You found the bench. Here's a kibble. Want some water while we wait for the bus? Here, girl, are you thirsty?"
"I think I hear the bus coming now…nope, that was the garbage truck. Okay, now here it comes, ready? Find the door, okay, forward, halt. Here's my pass. Is the first seat on the left open? Thanks, okay girl, find the seat, atta girl, good! Do you want to go downtown? You do? Good girl, sit."
"Beep, beep, get your tail out of the aisle. Hang on while they load more people. Yes, she's my first guide dog. She's a yellow Lab, about as sweet as they come! Does your daughter want to say hello? It's okay, but she might lick you! Thanks for asking for permission to pet first."
"Yes, she is beautiful. I used to give her a kibble every time someone said she was pretty, but that's too many kibbles every day!"
"How old? She'll be five in August. I got her about three years ago. It's an adventure! Am I training her? No, I think she's training me. It's lifelong learning. I joke that they gave my dog almost two years' worth of training, but I only got two weeks! I give full credit to the puppy raisers for teaching her good behavior so I don't have any problems taking my dog to work or out to eat at a restaurant. I'm sure your pet poodle is very special, too."
"Sounds like the next stop is the bus terminal. It's been nice talking with you. Hope you have a great day. Okay, girl, ready? Forward, careful, find the step. Good girl, forward. And left, atta girl. Hop up, not today, Vivi. Atta girl, forward. Find the curb. Okay, forward. Good girl, hop up. Here's a kibble. Forward. Stay left, find the door. There it is! Over here, okay, another door. Over here, okay. Got it, girl, left, find the counter."
"Hello! We are here for the city council meeting. It's on the third floor? Vivi, forward, find the elevator. Good girl! Okay, wait. Okay, forward and turn around. Third floor, please. Yes, she is beautiful. Thank you. May we get off first? Thank you. Okay, forward. Looks like we have arrived!"
"Does my guide dog need to sign in? Oh, just me? Good thing, since she does not know how to write yet. Yes, please, my name is spelled M-A-R-C-I-A. Thanks for your help. Okay, forward, find a seat. Good girl! Okay, sit. Here's a kibble. Time for you to take a nap! We'll be here for a while. Whew!"
---
Marcia J. Wick is a guide dog handler.
---