---
Written by Colt Rosensweig
originally posted March 10, 2016
---
When I was seven, like a lot of kids, I asked my parents for a dog.
Like most (smart) parents, they said no. They told me I could have one when I turned nine.
I turned nine. They said I could have a dog when I was 13.
I used to be kind of bitter about this. Many of my friends' families had dogs, and they didn't have to be 13. How unfair!
But as I've gotten older, I realized that what my parents did was brilliant. And if they hadn't, I doubt I would be the type of dog person I am today.
Since I had to wait for what seemed like forever for my first dog, I researched.
Well, as much as an elementary-school kid can.
I went to after school care at the local Rec Center, where once a week or so they'd troop all of us off to the library down the street. Methodically, I managed to check out and read every single book in their dog section. Every week, I'd return the five or so books I'd taken the past week and get the next five on the shelf.
I learned about all the different breeds I could.
My parents thought it was a hilarious trick that I could be walking down the street and immediately rattle off the breed of every dog we passed. I learned about what happened when you put time and effort into training a dog, and what happened when you didn't. I learned about The Seeing Eye, the oldest guide dog school in America, based in Morristown, New Jersey. I realized that my dream dog (at that time a German Shepherd) was probably not the best choice to have in a townhouse where it would have to amuse itself alone for six to eight hours.
By the time my parents and I seriously began our search for my first dog, I knew pretty well how to pick a dog suited to our lifestyle. We needed a young adult dog; nobody was ready or willing to take on the challenge of a puppy. We could offer about an hour of walking a day, so a high-energy large dog was out of the question. Short coat was a must, since extensive grooming wasn't and still isn't my favorite thing. We decided to adopt, and went through several shelters before arriving at Pets In Need, a rescue I'd done a report on in sixth grade. (When I was in school, if you gave me an open-ended project you could bet money that it would either be about Jackie Robinson or dogs.)
There, we found Buddy, a black Lab mix with some emotional baggage.
I wanted him; the parents were less sure. Finally, I convinced them. My mom called Pets In Need and discovered that just that morning, someone had walked in and adopted this dog who had been in Pets In Need's care for more than twelve months.
I was devastated.
But just a short time later, Pets In Need called to tell us that a two-year-old female Doberman mix had come in, and they thought she'd be perfect for us. She was gorgeous. She was sweet. She wasn't loud or pushy. She, like Buddy, had certain baggage; she had had at least one litter, and had a somewhat shy and reserved temperament. We brought her home and named her Angel (not because she was so lovely, oh no—because I was and still am obsessed with Buffy the Vampire Slayer and she had to be named for the vampire with a soul, Angel).
Lots of kids, when their parents get them dogs as soon as they ask for them, lose interest fairly quickly. To be honest, parents need to expect that on some level, and not turn the dog into some kind of life lesson where if the child forgets to walk him, the parent returns the dog to the shelter (yes, this happens). I, on the other hand, had been waiting six years for this dog. I was so ready. I had enrolled us in a training class, I was getting up early to walk her before school; if Angel needed something, I was going to do it. Except for walking her alone late at night, which became my dad's job.
I made a ton of mistakes with Angel, and she taught me a lot.
I still cringe when I think about how often I walked her on a Flexi leash let out to its full length, or how I let other dogs get in her face to "say hi." I did not keep her nails nearly as short as they should have been. I also let her wear nylon collars her whole life (mea culpa!).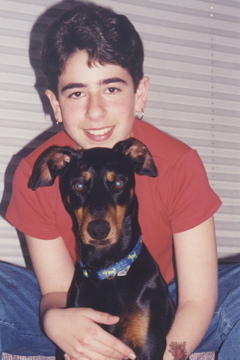 But Angel was a perfect first dog. Within three days of coming home, she was refusing to be confined in the dog-proof front hallway. So we let her have the run of the house, and she never destroyed a thing or stole a morsel of food. She was super food-motivated, so I had a fantastic time in training classes with her. She learned to be a lady in public, and everyone loved her. I was able to take her anywhere that dogs were welcome and know that she would behave properly. She wasn't a service dog, but looking at old photos, I realized that we did do a rudimentary type of deep pressure therapy together.
Angel did freak out during thunderstorms and when she heard fireworks, but otherwise, you couldn't have asked for more in a dog. I was heartbroken to leave her with my parents when I went to college, and crushed when she passed away while I was in Michigan in December of 2007, and not home with her.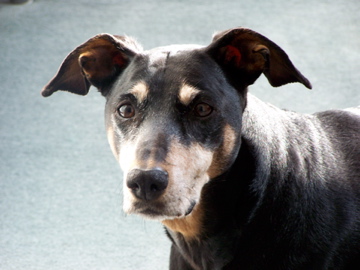 Because of Angel, and how I had to work and wait for her, I was a much better dog person when I got Juno, my wild woman turned service dog. Angel taught me how great life with a dog is when you fulfill that dog's needs. I don't just mean food and shelter—I mean proper exercise, mental stimulation, and affection. She also taught me that Dobermans are the best. I'd known Dobermans most of my life, as my childhood best friend always had a rescue Dobe in the house, but being quite a short person, I was often intimidated by them. They were basically at eye level with me a lot of the time, after all. But once I got Angel, I knew I always wanted a Doberman or Doberman mix in my life.
Without the work and wait for Angel, and the rewards that followed, I wouldn't have become so passionate about dogs and dog training. It's not enough just to love dogs. I was and am constantly learning new things about dog body language, dog etiquette, dog training, the works. I am convinced that you cannot be a successful owner-trainer of a service dog unless you are devoted to learning constantly about dogs in general and training specifically, as well as doing all you can to improve your own training techniques. Training has to be something you think about every single day, something you're passionate about, something you want to talk with people about endlessly.
I doubt I would have developed my passion, and therefore my skills, if my parents hadn't made me wait six long years for a dog. So, Mom and Dad—thanks for NOT getting me a dog when I asked for one. It was a really good decision, and one I'll be grateful for the rest of my life.
---