---
Written by Colt Rosensweig
---
As service dog handlers, it's our responsibility to educate ourselves on our rights, and the regulations that affect us.
Air travel is an area of much confusion, and since Kaline and I just came back from another trip (to Michigan, where else?), now seems like a good time to address this.
Once you're in an airport, most especially in an airport past security, the law that applies is no longer the Americans with Disabilities Act (ADA). The relevant law is the Air Carrier Access Act (ACAA), which differs from the ADA in several important ways, most notably in that it gives emotional support animal owners the right to have their doctor-prescribed pets with them on the same level, essentially, as service dog handlers.
When you arrive in the airport, it would behoove you to have your service dog harnessed or vested so that he or she is very obviously a service dog. The TSA have steps they can go through to establish that a dog is a service dog, and if your dog is marked, they will have a lot of trouble going to steps 2 and 3.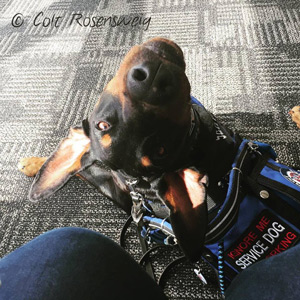 If you bring your dog in "naked," you must make "credible verbal assurances" to the TSA agents that your dog is a service animal. If they don't find your assurances credible, however, they can demand to see a doctor's note of support. Those with emotional support animals must produce such a letter, which must be written in a very specific way, regardless of their dog's attire in order to travel. I highly recommend that every service dog handler have a doctor's letter of support in their travel bag, just in case of emergency. However, I personally would only show mine in a very extreme situation, because Kaline never travels out of harness.
While I have had almost exclusively positive experiences with TSA, I think we all know that these people can often go on major power trips. It's essential that every handler know the TSA guidelines regarding service dogs, and I carry a printout of those guidelines just in case. I also carry printouts of relevant sections of the ACAA. Sometimes, the only solution to a situation is to read federal law to whoever is in your way, until they realize it applies to them.
"A variety of makers offer metal-free leashes specifically for airport travel. You and your dog can walk through together, and as long as neither of you alarms, you can both get dressed again and neither of you will get a pat-down."
Another very important aspect of the TSA guidelines is that they CANNOT force a handler to remove their service dog's gear (specifically, leashes or other things that help you control the dog, equipment that marks your dog, or equipment that helps the dog do its job like a guide or mobility harness). As a handler, you need to decide if it's more important to you to keep your dog's gear on, or to keep the TSA from touching your dog. Both choices are completely valid.
If you want your dog's gear to stay on, the usual procedure is to leave the dog in a stay and go through the metal detector by yourself.
Then you call your dog through, he or she alarms, and the TSA agent will pat him or her down and inspect any pockets they may have. If you don't mind TSA touching your dog, and your dog likes people, this can actually be a fun option. I know, I know, fun and TSA don't usually go together. But as an example, on the way home from Detroit, as the TSA agent was going through Kaline's gear, she asked what was in his cape pocket. "His baseball cards!" I replied. She fanned them out with a big grin. "Do you want one?" I asked. She was completely thrilled she got to keep one. TSA will almost always send the resident dog lover to do your dog's pat down. It's usually pretty low-key and actually enjoyable.
Many handlers, however, do not want their dogs touched by any strangers.
In that case, you'll need to remove anything on your dog that contains metal. A variety of makers offer metal-free leashes specifically for airport travel. You and your dog can walk through together, and as long as neither of you alarms, you can both get dressed again and neither of you will get a pat-down.
In the face of TSA agents on a power trip, it can be extremely hard to advocate for yourself, especially if part of your disability involves anxiety. Something that helps me is a lot of practice beforehand, rote memorizing responses to possible challenges from the agents. I also never travel alone, and the people I travel with are always prepped for challenges as well. Another thing that can head off conflict is for you, as the handler, to tell the agent exactly what your preferred procedure is before they even tell you to do anything. Usually, as soon as an agent looks at Kaline, I say in the most confident tone I can manage: "I'm going to go through first. He will wait. When you tell me it's okay, I will call him through. After he alarms, he'll get his pat-down."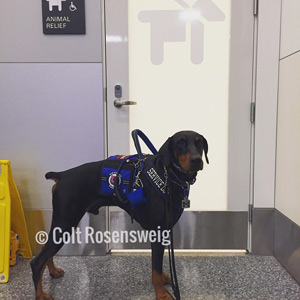 Once you're through security, service dogs and ESAs are covered under the ACAA (some helpful links can be found here). Each airport has to have a relief area, but not necessarily in a convenient location. More and more airports are putting these areas inside of security, which is very helpful. Regardless of where the area is, make sure your dog has an opportunity to relieve as close to flight time as possible. Be alert throughout the airport for pets. While some ESAs have lovely manners, many don't, and no training whatsoever is required for them to fly without crate, carrier, or muzzle in the cabin. Their owners are also not required to keep them on a short leash. Give any and all dogs you see plenty of space (many working K9s in airports aren't safe for your service dog to be near).
On the plane, the ACAA requires airlines to accommodate you and your service dog.
That means giving you a seat in bulkhead, if you request it, or making sure you're not seated in bulkhead, if that is your preference. Many airlines will tell handlers they're required to sit in bulkhead, which is completely untrue. It's up to you, and it's important for you to stand up for yourself and make sure you're located in a seat that is the most beneficial for you and your service dog.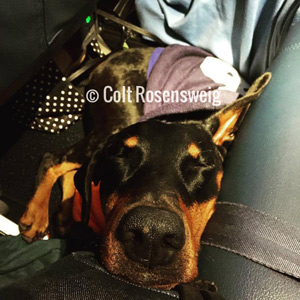 I personally prefer a window seat in the economy section with more legroom.
Window seats mean that no one will be stepping over your dog to get out, and the extra legroom means that Kaline has enough room to swivel once he's into the row. In some regular economy rows, he physically cannot make the turn so that instead of being side-on to me, he faces me and can lie almost fully under the seat in front of me. Most bulkhead rows have less room than regular rows for your dog and your feet, but it's always a good idea to confirm using a site like seatguru.com. Occasionally bulkhead rows have a ton of space.
The ACAA also obligates airlines to move your traveling companion to the seat next to you, assuming that person will be helping you in any way on the plane. In the same way that you cannot be charged for upgrading to a seat that accommodates your SD (airlines like to upcharge for an inch more of legroom, or bulkhead seating), neither can the airline charge your companion for his or her move. While I've not had to have this argument in quite a while, having flown exclusively Delta for a couple years now, when I first flew with Juno I had to read the relevant section of the ACAA on a loop to agents from United and Virgin Airlines before they would finally admit that federal law applied to them.
"If you prepare, you can reduce some of the stress that comes with air travel and also help to smooth the way for anyone else traveling after you."
The more of this you can do ahead of time, with a ticketing agent, the better.
It's always easier to change your online-booked seats over the phone just after you've booked them, rather than to wait and try to get this done at the gate. Even easier is just booking your seat(s) through your airline's disability hotline. These are usually the people who have been educated on the ACAA and you will have the easiest time dealing with them.
Once at the gate, you have every right, and it is highly advisable, to board early.
As a service dog handler, you are a person who needs extra time. Getting Kaline and myself settled is always a bit of a procedure—I go into the row, have him stand by the middle seat, and put his mat down. Then I remove his mobility harness and replace it with a cape of some kind. He squishes himself into the space at my feet, facing me. Then I have to get everything we might need for the flight—books, jammies for Kaline, any treats, snacks for me, etc.—out of my backpack before my travel buddy can put it up in the bin and then get him or herself settled as well.
We are fairly efficient at this but it does still take time, so it's much better to block three or four people in the aisle for a few minutes than to try and do this with fifty people behind you clamoring to move forward. Plus, if you are in the window seat, getting settled early means most of the passengers won't even see your service dog, and you won't have to play Twenty Questions with a line of 100 people.
Flying with a service dog is like everything else in life with a service dog.
You have to be prepared to advocate for yourself, or have someone with you advocate for you. Everything you do in terms of complying with illegal demands is going to affect all the handlers coming along behind you. If you prepare, you can reduce some of the stress that comes with air travel and also help to smooth the way for anyone else traveling after you.
---