Having lived in both the United States for most of my life, as well as Europe for almost 15 years now, I have been blessed with experiencing to some degree how service dog laws are similar, and how they differ, in different countries. The bulk of my experience is in Spain, where we reside, and I'll be delving into that a bit today.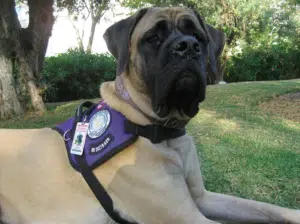 First, a little bit about us. I'm Dana, and I have epilepsy, Hashimoto's Disease, and life-threatening food allergies. My first assistance dog, Karma, was a Mastiff imported from a breeder in Canada. Karma was one of the first assistance dogs to be certified here in Spain when the laws were finally expanded in 2007 to offer assistance dogs the same legal classification afforded previously only to guide dogs. Karma retired in 2012 and, sadly, passed away in 2014.
Her successor, Journey, is a Bernese Mountain Dog, and was dual certified in 2013 as both a medical response and mobility dog. Thankfully, my condition has drastically improved and we no longer need to work as a mobility team for the most part, so he gets to focus on his primary task of looking out for my medical issues.
How are things different in Spain?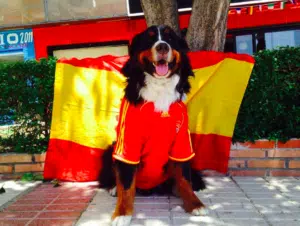 For starters, for the most part our dogs are called "assistance dogs" rather than service dogs, as in most of Europe, "service dog" refers to dogs in military or police service. I find that I prefer the term assistance dog as well, because it more accurately describes our partnership. It denotes that my dog assists me, rather than serves me and shows that we are a team.
The second major difference here is that assistance dogs must be certified and there are steps outlined that we must follow. For the most part, you won't see very many owner-trained dogs here. The vast majority are program dogs; more often than not, guide dogs either trained by ONCE (the Spanish Association for the Blind) or by an American Guide Dog program. Recent surveys have shown that over 70% of Spaniards prefer to mitigate their disabilities with typical medical equipment such as walkers, canes, wheelchairs or human assistants, rather than have to care for, feed, and train a dog to help them.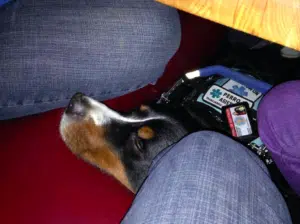 Owner-trained dogs are somewhat of a novelty here, primarily because there are only two programs here that will aid a person with disability in evaluating and training their own dog to assist them, and guide them through the certification process. Luckily, I happen to live fairly close to one, so I have access to such a program, but countless others live in rural areas, or many hours away from one of these programs, and as such are forced to wait for a program dog.
Journey was evaluated at five months and accepted into training. He did really well in early training, but at around 11 months or so, he hit a gnarly fear period and I was nearly ready to wash him out of training myself. I got frustrated with him because he wasn't Karma, and didn't learn at the same rate she did, or in the same manner she did, and it wasn't as easy as it was the first time we did this. Thankfully, our trainer convinced me to hang in there until the end, and Journey turned out quite nicely!.
What about laws?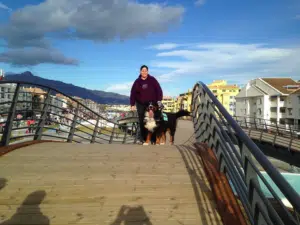 Spain is somewhat behind other countries in legislation regarding assistance dogs. Some areas only recognize guide dogs for the visually impaired, and others have extended access to assistance dogs for other disabilities as well, thanks to heavy lobbying.  However, only four categories of assistance dogs are recognized, and each dog must be categorized during the certification process. Those are: guide dogs for the blind or visually impaired, signal dogs for the deaf and hard of hearing, alert dogs for those with diabetes or epilepsy, and mobility dogs for those persons who use wheelchairs, walkers or crutches and need assistance with things like opening doors, retrieving dropped objects, turning lights off and on, etc. Assistance dogs for psychiatric disabilities are not recognized in any part of Spain at this time.
Karma was certified as an alert dog, and Journey was certified as an alert and mobility dog.
What is the certification process like?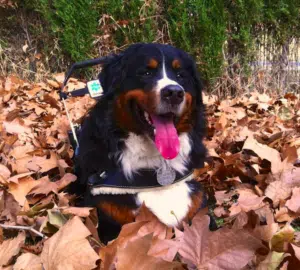 The actual certification process is the same for program or hybrid Owner Trained-Program dogs alike: first the dog is evaluated for suitability by an approved program trainer, and then training begins. Training consists of a minimum of 120 hours of obedience, on and off leash, privately and in groups, to ensure that the dog is exposed to as many different situations as possible. All training hours must be logged, and the trainer signs off on the logs before those are submitted for Stage Two.
Stage Two consists of a further 120 hours minimum of public access training, and can only commence once stage one is complete. In our case, for half of those hours we were shadowed by a trainer who followed us at a distance and took notes, and the other half we practiced on our own. Again, logs must be completed and the trainer signs off on that to begin the final stage of training, and possibly the most important of all: task training.
Stage Three is task training. Some trainers prefer to do that separately, after obedience and public access. Ours, since this was my second Owner Trained dog, chose to work on it simultaneously with public access. Again, 120 hours of training dedicated to tasks to mitigate our disabilities is completed, logged, and submitted with the other two logs for the final certification phase.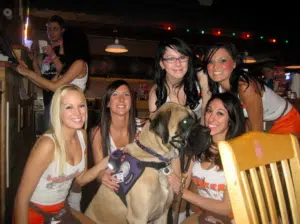 Certification consists of an extensive task training test, public access test, and obedience test. If at any time during testing a dog shows an aggressive or fearful response, the test is immediately failed. And the BIG thing is that you are only allowed to attempt the test twice. Fail twice, and you have to start all over with another dog. This is designed to weed out unsuitable candidates.  For owner-trained dogs, we had to do all the tests in presence of a trainer, and submit unedited video of the testing to the head office of the program. Our Team ID was sent to us by mail a few weeks later.
Karma, my first assistance dog, failed the first time we took the tests, because she couldn't resist a bit of chorizo that was dropped in front of her. We had to work for a further 3 months before being allowed to try again. Thankfully, she passed the second time around!
Journey on the other hand was brilliant and passed everything the first time. I think having learned a lot from training Karma, I knew ahead of time what areas we were weak in, and worked harder on those.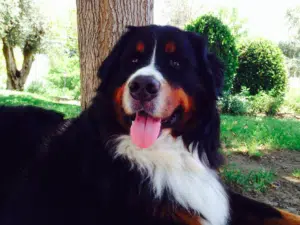 And we have to recertify annually. A trainer meets with us, and we spend a couple of hours out in public, to verify that we are maintaining our training and that no major issues have cropped up. Our last recertification was an extended coffee date! Journey is particularly fond of coffee dates, so that worked out in our favor.
I should mention that to even qualify for an assistance dog, you will need a medical certificate from your doctor, stating your disability, and approval from social services in your area. In the US, this would present a hardship, as many people don't have insurance or a doctor and can't afford batteries of tests to establish a firm diagnosis. In Spain however, we have universal healthcare which means everyone has access to a doctor, specialists, testing, and diagnostics, at no out of pocket cost to the patient.
What about access issues?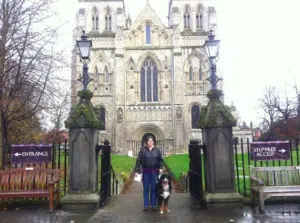 Given that there is a lengthy certification process, and we are required to carry our team ID in a visible location on the dog's vest or harness, generally there are no access issues. If one were to occur, the local police enforce access provided you have your team ID readily available. Our laws require the dogs to be visibly identified as an assistance dog, and have their ID visibly displayed to help reduce access issues.
Karma and I had only one huge access issue, at my daughter's school. The custodian refused to back down, so the police were called. Even after the police attempted to force access, he refused, and the police gave him a nice fine to the tune of 3500€ (roughly $3700 US) and we never had any problems after that.
But can't people fake the ID?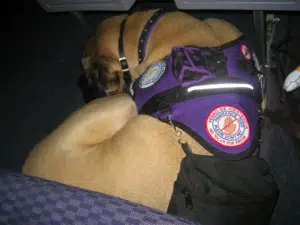 There are so few assistance dogs working in Spain that it would be hard to do, and for the most part not worth the effort. There is a safeguard however – while no gatekeeper may ask for your medical certificate, law enforcement can, and you are required to present an up to date (within the last year) certificate upon request by law enforcement. So even if someone faked the ID, it would be nearly impossible to fake an official government form, dated and stamped by their attending doctor.
What else is there to note about assistance dogs in Spain?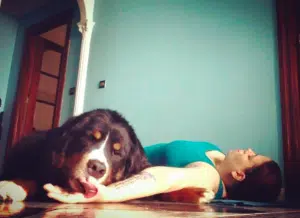 We also have a mandate written into the laws that we are required, as handlers, to keep our dogs properly groomed and clean, ingood health, visit the veterinarian annually for a physical exam, and keep our dogs free of parasites. If at any time the handler is charged with abuse, they can lose their right to an assistance dog. If at any time the dog acts aggressively or destroys property, the dog can have their certification cancelled. You won't see people working dysplastic dogs here either – hip and elbow x-rays are a requirement for certification, as well as having your candidate spayed or neutered prior to certification.
Sounds like a great system! What about downsides?
For those who choose a program dog, there really aren't many, because you are matched with a dog that best serves your needs. For those who owner train through a program, the downsides are that one can't simply present ANY dog for evaluation. Spain unfortunately has breed specific legislation, and any dog of a breed on the national "dangerous dog" list is automatically excluded. This means Akitas, Dobermans, Rottweilers, Pit Bulls, and a few other breeds can not be assistance dogs here. It makes us sad that our buddy Kaline would be excluded solely based on his breed.
Another downside is that the training is lengthy and rigorous and some people with disabilities would have difficulty with it.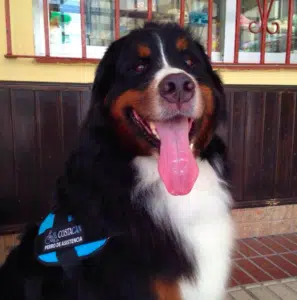 I would recommend for those folks that they opt for a program trained dog.  For some people, the legal requirement that assistance dogs be spayed or neutered might provoke an objection. It wasn't a big deal for me, though.
The biggest downside is, as I previously mentioned, dogs for psychiatric disorders are not covered under any law at this time. This presents a problem for the multitude of people who would benefit from an assistance dog for their psychiatric disabilities. My hope is that the laws change in their favor in the near future.
Dana