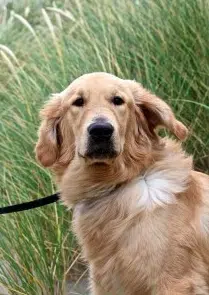 The time has now come for your once bouncy and carefree little puppy to take the next step in his journey to an exciting career as a service dog, intended to provide a life of support and guidance for a future partner in need of a special dog.
You have spent 12 months or more of your personal time with this puppy 24/7, and your now fully grown pup is prepared for advanced formal training as a guide dog or other assistance dog and is headed off to the organization's campus for more training.
As a puppy raiser, fully in love with this puppy yet fully dedicated to the special goal of the partnership with an as-yet unnamed partner, you still find yourself somewhat saddened yet bubbling over in excitement with the prospect of your pup's future and an important job with someone who needs him far more than you.
It is hard, very hard, to say your good-byes, but you knew this day would come and you have attempted to prepare yourself for this farewell. You understood on the day you accepted this squirmy armful of fluff and agreed to the 12-18 month commitment, that he was to be a temporary fixture in your home. You kept alive the hope that whatever his future would be, you could maintain some small connection – a slim window into his new life.
As a pup moves on to his advanced training and lifetime placement, there is always a certain amount of hope that you will have a lasting connection with his future partner. You find yourself deeply bonded to this little guy, all grown up now and showing such wonderful potential for that job he was born to achieve.
Tears may flow as you send him off for the next phase of his life or you may hold back your own emotions so that you can send him off in a way that helps him sense only the positive feelings from you for this next adventure in his life. Any tears shed later may be a combination of happiness at his advancement to bigger and better things, coupled with your feelings of loss, as he will now be absent from your daily routine.
Your pup may remain in advanced training for just a short time due to health issues, or may advance all the way through the final testing and graduate with flying colors.
An early career change due to health is always a sad moment. Not only do you have concern for his quality of life as he grows older, but you may also grieve over his lost opportunity to achieve his potential for a life of service and partnership with one whose life he would have changed. If your dog passes his health check, your hopes for his final success increase over those next several months of advanced training. You now wait with great anticipation for the call that he has been matched with his new partner. This can be an anxious time, while also one of excitement as you try to envision the person with whom the pup you raised was meant to spend a life of service. Who is this person? You realize that the dog you raised and cared for all those months was really another person's dog.
But then, ever so unexpectedly, you get a call from the service organization to inform you: "We're sorry, but your dog has been career changed due to …" Next comes an explanation and list of reasons for the decision for his "career change." Your heart sinks with sadness and disappointment, not just for yourself but also for your dog that gave it his all—a dog full of love and devotion for his special someone. That hoped-for conclusion was not to be. You receive this news with very conflicted feelings.
When we puppy raisers receive a call like that, we may hear little to nothing of the actual words of explanation that follows those first words. We just hear: "We're sorry" and "career change." Those first words are words we never want to hear. We always want our dog to succeed in the career for which he was born and raised.
So now the puppy you raised with unconditional love, devotion, and dedication has been career changed. Now what?
Others have spoken of the up and down feelings, the roller coaster ride for puppy raisers over the 12-plus months this pup lives in their homes and how they are a full-fledged member of the family. We always try to prepare ourselves for the eventual departure of this pup from our daily lives. We send these pups off with our support and love for their success in service but not always thinking what to do if this pup is not suited for the service he was raised for and then becomes career changed in the end.
Several organizations offer alternate service opportunities for dogs that are not suited for the primary service job. Some of these opportunities include becoming a "Buddy Dog" for the family of a young blind child, or being evaluated for work as a different type of service dog, search and rescue dog, or even a drug-sniffing dog. The organization may also offer the dog back to the puppy raiser as a family pet and the raisers may then go on to train and certify that dog in some type of search and rescue or as a therapy dog. A therapy dog must be calm and able to visit in retirement homes, nursing homes, hospitals, etc. Many career change dogs are very well suited for therapy work.
A quandary a puppy raiser may also face, if they choose to keep the dog when career changed, is how to get that dog home again. If the puppy raiser lives a long distance from the training campus of the organization, that could become a deal-breaker. If they can drive to the campus, or have a friend driving in that area to pick up their dog, it becomes an easier solution. If it's too far for a quick road trip, the next question is whether to fly the dog home at a very costly price. Not all puppy raisers can afford the price tag. That leaves one final and extremely difficult option—giving up the dog again, and maybe never having a chance to see or visit him in future years. This is not just any dog—this is a dog the puppy raiser is deeply bonded to and loved unconditionally for 12-18 months.
Some very tough decisions now face the puppy raiser.
If you can't bring the career change dog home due to costs or other unforeseen situations, a family looking for a pet could adopt your dog. The potential new family is required to submit an application and meet certain requirements before they can adopt your career change dog. If you agree to this path, you may hope that the dog's next family will have enough compassion to keep in contact with you, the puppy raiser, and perhaps arrange a visit at some time in the future.
It is not a requirement usually, but most adopters of a career change dog have empathy for the close and special connection that a puppy raiser has had with the dog and understands the sacrifice that a puppy raiser endures with each and every puppy they raise. Many times these adopters show their appreciation of this new dog in their life by sharing highlights of the dog's new life, and in turn the puppy raisers share puppy pictures and stories of the dogs early life. That's a wonderful win-win situation for all involved.
All the good attributes new adopting families see in their new pet dog has grown out of the deep love and devotion of his puppy raiser, nurtured in that dog as a tiny puppy and continued over those 12-18 months in puppy training.
If anyone reading this has been blessed with an opportunity to adopt a career change dog from any service organization, please remember those puppy raisers who sacrificed their time to love, nurture and mold this pup into the wonderful pet dog that you now enjoy and love so dearly. It is an unselfish sacrifice to raise a pup and then let the dog go, be it to a life of service or to a life as a pet for another family.
A very kind gesture of thanks to most puppy raisers is to stay in touch with that puppy raiser, with short notes or long letters and a picture now and again. Maybe invite them for an occasional visit. Best of all, thank them. They gave you a piece of their heart when they said yes for you to adopt the puppy they loved so dearly. Also, please try to understand that they gave you that pup, because they loved the pup deeply and wanted to share the joys of this wonderful dog with you.
Written By: Alice Munley
Growing Up Guide Pup Board Member