---
Written by Colt Rosensweig
---
Remember when I said I was a gearaholic? I'm also addicted to patches. Like my general gear addiction, I don't actually consider this a problem. Oopsie!
No doubt my personal opinions on service dog vest patches will rub a few people the wrong way, so before I really get going, let's get this out of the way. These are my personal opinions, not those of GUGP or somehow the service dog community as a whole. There is no law governing what patches a service dog must wear (they don't have to wear any), or limiting the number or type of patches. Okay? Okay.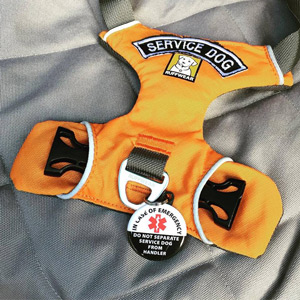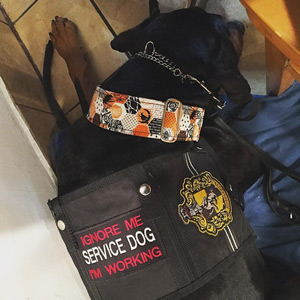 Let's start with simple, classic, and professional.
If that is the type of patch you seek, my go-to makers are Danny Clevenger, of Clevenger Embroidery, and Creative Clam. Danny offers embroidered patches in all the usual shapes: circles of varying sizes, rectangles, squares, rockers, and arched patches. Almost any common wording is already available, but Danny is also excellent and mind-blowingly fast at creating patches with custom wording and even custom colors. Having experimented with various different phrases on my dog's patches, I finally settled on SERVICE DOG in white, with IGNORE ME above, and I'M WORKING below, both in bright red. Originally Danny did this as a custom patch for me, but now it's one of his regular offerings, and I admit to getting a little shot of glee every time I see it on someone else's dog.
Creative Clam offers patches which use dye sublimation rather than embroidery.
They also have zipper pulls, velcro leash patches, bumper stickers, and pins. The regular offerings, like Clevenger's, feature common wording and symbols like the red stop sign and the caduceus. They can also do custom work, like the fantastic zipper pulls I had made a little while ago. One of the most important things to have written on your service dog's gear is that they should not be separated from you. Creative Clam managed to fit appropriate wording onto little quarter-sized zipper pulls, which now adorn literally every piece of working gear I own. They aren't quite as speedy as Clevenger, but who is?
"Some people like to completely cover their dog's gear in patches; I'm not one of them, since I think it tends to defeat the patches' purpose. "
These types of patches are, in my opinion, the must-haves if you're going to put patches on your dog's gear. They're simple, readable, and get the point across quickly. Personally, I like to keep my dog's patches to a minimum, because the fewer total patches you have, the more likely you'll get members of the public to read and follow them. (That's not to say that fewer patches will guarantee this. You'll still get the people who grope your dog while reading the patches aloud to you. As though you didn't choose them and their wording yourself.)
But let's get real—people like to customize their dog's gear, and not just a little bit.
My two favorite places for specialty patches are Christine's Custom Patches and Patienceandlove143. Kaline's DD Service Dog Designs all feature a custom patch made by Samantha from Patienceandlove143, identifying him as a Doberman service dog. (This may or may not be so I can point at it when people stare at him for fifteen minutes and then finally ask me what kind of dog he is.) It's almost impossible to find anything with a floppy-eared Doberman on it, especially service dog patches, so I was thrilled beyond belief when Samantha was able to make these for me. She has made numerous breed-specific service dog patches, and that barely scratches the surface of her amazing offerings.
Patienceandlove143 does gorgeous and very customized patches, along with vests, harness-compatible capes, and leash sleeves.
The leash sleeves can also double as covers for the front strap of a simple cape vest. Some of her patches are snarky by request. I personally won't put snark patches on my working dog, since I like him to look as sharp and professional as possible, but they appeal to a lot of people, are incredibly well done, and are highly amusing, I won't lie. She can do patches in any color scheme a handler desires, often with lovely images to complement the text.
Christine's Custom Patches are a little pricier than Samantha's, but if you need customized patches that can take a beating and still look amazing, look no further. All her patches are embroidered on marine vinyl, which cleans up easily and beautifully no matter what you do to it. (Well, don't cut it. Or burn it. That would be irreversible.) Like Samantha, she can do almost anything you can imagine in terms of wording, colors, and images, on patches, hang tags, leash sleeves, or double-sided velcro signs. One of my favorite creations was a complete set of patches that were all Harry Potter-themed, down to that distinctive Harry Potter font!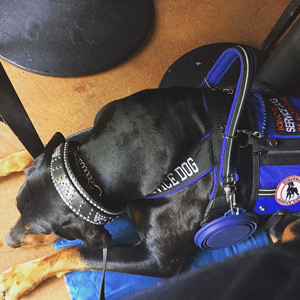 Some people like to completely cover their dog's gear in patches; I'm not one of them, since I think it tends to defeat the patches' purpose. Kaline has three vests, in the classic service dog colors of black, blue, and red, and I allow myself one "fun" patch on the right side (the side of the vest that faces me, not the public, most of the time). His black vest has a Hufflepuff patch—our Hogwarts House, have to represent; the blue one has a Detroit Tigers patch; and the red one has a tiny red-and-yellow rectangle patch that instructs, "Say Nice Things About Detroit." All that said, if you are an even bigger patchaholic than I, I recommend either getting a dedicated bag for your dog's stuff that you can cover in patches and tote around events (that's what I did, and it was a ton of fun), or making sure your vest has a lot of velcro and so do your patches. With velcro, you can have basically an infinite number of patches!
---