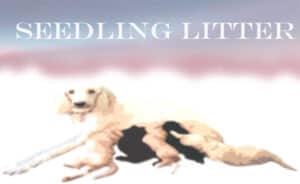 The last eight months have been like a whirlwind. First it was a hurry up and wait game. We had to see if the breeding between Pixie and Rio was successful. We asked ourselves, "were we going to be expecting puppies"? That was a constant question for several weeks in March and April of this year. Once an ultrasound confirmed pregnancy, we were then in preparation mode. We made sure we had everything we needed to whelp, and to raise a litter of puppies. Once the puppies arrived, time flew by way too fast. I just wanted to slow time down. Now that all the puppies have been gone for a little over 3 months, it almost feels like it was all a dream. 
Eight weeks with baby puppies goes by very quickly. Puppies grow up so fast. In eight weeks they learned to crawl, then walk, and then run. They went from struggling to find a nipple to nurse on, to learning how to find their own individual kennel for their meals. They learned to play, how to accept treats gently, how to walk on leashes, and how to snuggle with people.
We did our best to prepare the puppies for their departure from our organization, from Pixie, and from one another. I wasn't able to take as much time away from work as I wanted, but Matt took up the slack well. It was hard with our busy schedules to give each puppy individual attention in addition to time away from the rest of the litter, but we made it work. We did individual short training sessions, short individual leash walks, short car rides, and individual kennel times. With young puppies, even the shortest training sessions, and new exposures can go a long way. It is the cumulative effect over several weeks that makes the impact for developing pups; even with short interval training we observed.
We were both very excited for the puppies to head off to start training, but also very sad to see them go in July of 2021. This is the first litter we bred, and second we whelped ourselves. Pixie was also born in the same whelping room, so this litter is extra special to us. A lot of love went into these puppies, and we are very attached to them. But we didn't have this litter of puppies to keep them. 
We didn't have as much funding that we were hoping for. We were not able to produce the web series at the same time. That is our ultimate goal. We did acquire raw footage of the whole process for future programming however. We had a lot of pressure from people watching and waiting to see if we were going to be successful in our mission to produce good service dog candidates. We have had our share of critics. Picking good candidates and breeding is a novel thing for us. We took a big leap of faith that this was what we were supposed to be doing at this time. It seems to be paying off!
Poppy and Birch were the first puppies to leave. Sharon from Cascade Service Dogs drove from Tacoma, Washington to pick them up from us. Poppy's personality is the most like Pixie's. When she departed she was super attached, but a little aloof with new people. It was hard to say goodbye to Poppy because of her bond, but I am hopeful that she will bond just as hard with her raisers, and with her final placement. She is a super smart girl that loves adventure and has so much love to give. Birch is a very smart puppy that loves people. He is not quite as confident as Poppy, but he is very eager to learn and please. We have very high hopes that these two pups (with the help of Sharon, and her organization) will change the life of someone special. Someone that needs them. We got a great report that they did very well on their road trip north, and have settled in very nicely. We are told that Poppy is confident, but takes a little time to warm up to new people. Birch is a little less confident than Poppy, but also doing well. Both are big favorites with the Cascade Service Dogs.
Reed, Maple, Fig, and Oak also traveled to their destinations. Our good friend Lizzie flew down from Vashon Island to help us drive across the country to deliver the puppies. Most people would probably think we are crazy for driving almost 5000 miles round trip, but we really wanted to set the seedling litter with the best destinations possible. We traveled from the Bay Area to Central Pennsylvania with multiple 8 week old puppies, and four adult dogs. We also picked up a dog from Linzey at Phoenix Assistance Dogs and delivered him to Los Angeles while we were at it.
We met Reed's puppy raisers in Salt Lake City, Utah. It took us about 15 hours to drive there. It was about 4am when we arrived to hand Reed off to his very excited puppy raiser Sandy, and his future recipient Skye. Reed is Skye's new guide dog prospect. Custom Canines Service Dog Academy out of Madison, Wisconsin will be doing his formal harness training. Reed is a very observant puppy, and he likes to take everything in. He is very attentive, and eager to please. From a very young age, Reed would just sit, and stare at us waiting patiently for us to give him attention. If we left the room, he would patiently wait at the gate for us to return. This little rockstar displayed that he wants to be a partner with someone. We are super excited about Reed's placement. He is currently traveling around the country with his puppy raiser, and getting exposed to all kinds of places.
Skye told us that she got her first guide dog named Cindi because she saw our web series while following Ricki growing up. This is so special for Matt and I. To not only have inspired her to get a guide dog, but years later provide a prospect for her future. So far we are getting great reports back on how Reed is doing. We are very excited to watch him grow and learn as he matures for guide dog work.
Oak, Fig and Maple went to Phoenix Assistance Dogs in Pennsylvania. After we dropped Reed off in Salt Lake City, it took us another 2 days to drive to Lititz, Pennsylvania. We did take a slight detour, and stopped to visit our Board member Alice. She lives outside of Pueblo, Colorado. This gave us an opportunity to take a break from driving, and catch up with her and her husband Ken. It also gave the puppies, and the adult dogs a chance to stretch their legs, and romp in their yard. After our visit, we drove  to Pennsylvania with a short stop in St. Louis to see the Gateway Arch. We took turns driving, and sleeping with potty stops. We provided short breaks for the puppies, and for the adults. 
We were blown away by how well the puppies did on such a long trip. They were very quiet. They accepted the kennel while driving very well. There were no potty accidents in the car amazingly. They ate well. They were confident on leashes when we stopped. They were as perfect as 8 week old puppies could be. The adult dogs were also amazing for being in the car in tight quarters for so long. 
Once we arrived in Lititz, we went to the Phoenix Assistance Dogs training office. We got to meet Linzey, the founder, in person. We have both been following each other for many years now. We are big fans of her program. The puppy raisers for Oak, and Maple were also there. We also met Fig's temporary raiser because his raiser was out of town. Everyone was super excited to meet the puppies, and they were extremely welcoming. 
Oak is the most confident of this litter. Nothing phases him. He is very quick to pick up on things. By the time we reached Pennsylvania, he was offering sits, and downs for treats. He is a very smart boy, and is also very adventurous. He is going to be a dog that needs a job to keep him mentally satisfied. He is also the most outgoing with new people, and loves to snuggle. He is also voted the class clown of the litter, and is always trying to get into something. Oak is doing well in his raiser's home, and we look forward to getting reports back on him.
I like to call Fig the gentleman of the litter. He is the perfect mix of quiet, observant, and outgoing. He too is very smart, and loves to cuddle. He likes adventure, but also likes to sit, and observe his surroundings. I'm eager to see how he develops. His raiser has been great about sharing photos, and even a few videos. It looks like he has settled in nicely, and his confidence is growing by the day.
Like Reed, Maple has a special placement. Linzey asked us if we were ok if Maple became a prospect for her personal service dog. Linzey has been supervising the training, and breeding of dogs for many years. For her to choose one of our puppies to be her own is a huge honor for us. Maple is also a great combination of adventurous, and calm at the same time. She loves seeing new people, and adventures, but doesn't get overstimulated easily. She loves people, and to snuggle, but is also up for exploring, and learning new things. I'm excited to see how things go for her. So far we are getting great reports back about her intelligence, and confidence. She also has a silly side to her. For example, she likes to sleep on top of her crate just for the fun of it.
Pixie got a chance to play with her puppies one last time before they left with their raisers. It was a beautiful sight to watch her enjoy her babies, and see them off. We were not sure how Pixie would do with her puppies leaving. She got quite depressed when Poppy and Birch left, and concerned when Reed was dropped off. But when Oak, Fig, and Maple left… she seemed happy. She did well the rest of the trip home without them. We did have another passenger on the trip home. Milo, a 3 month old Labrador Golden cross. He is from a litter that Linzey bred for Phoenix Assistance Dogs. He was given to VIP Dog Teams. They train therapy dogs for animal-assisted therapy. Pixie took Milo under her wing, and was very eager to keep him company on the trip back to California. 
The Service Dog Litter Projects goal it to give each puppy to organizations that place service dogs to people with life challenges. But as the puppies grew, we pondered on ways to continue the project. After some thought, and discussion, we decided to keep one female puppy to watch as a future breeding dog. We chose Ivy. She was also that last pup we needed to find a home for. We thought long, and hard about her placement. It was a difficult decision for how we would approach this need. We currently have four dogs in our home. With our current situation, we just don't have the time or energy to commit to raising another puppy. It was important for us that Ivy be raised as a service dog in training. In case we decide she is not a good candidate as a breeder, we can still possibly place her as a service dog for somebody. We reached out to our friend Lizzie. She has raised a few puppies, and is a graduate from the Karen Pryor Dog Training Academy. After a few conversations back and forth, she agreed to take Ivy for GUGP as our first official Growing Up Guide Pup raiser. 
Another local friend was kind enough to watch Ivy as we delivered the puppies across the country. Once we arrived back in California, we picked her up, and sent her home with Lizzie to Washington State. 
Ivy is doing very well. We recently had a chance to spend a few days with her, and are very impressed with how she is developing. She is very confident, attentive, eager to please, seems to love to work, and very affectionate. We will continue to watch her closely, but so far she has a great temperament for breeding, and service work.
Our garage is still littered with puppy toys, and supplies. It's our reminder that the pups were really here. Life has gone back to normal for us. Pixie is getting back to her old self as well. She was a little confused when we first got home, but now she is eager to work, and train again. So far we are getting good reports back on all the puppies. Everyone is keeping in contact with us, and we have even set up a private Facebook group for all the puppy raisers, and trainers working with the puppies. Everyone can share triumphs, and struggles with each other. We are extremely pleased with where each puppy has been placed. We are excited to follow their journeys as they grow and mature into adult dogs. 
We will take feedback about the puppies from the raisers, and the organizations over the coming months. We will decide if we should produce a second litter with Pixie. We are extremely grateful for everyone who helped make this litter possible. To everyone who donated money, and supplies. We thank you! To the organizations willing to take our puppies. We thank you! We thank Lizzie!  Not only for taking on Ivy, but also for joining us on the crazy cross country road trip. We couldn't have made that trip without this important help. We hope that there will be another litter with Pixie, and then maybe in two years, it will be Ivy. Our breeder program will continue, and the Service Dog Litter Project appears to be the operational program we will hang our hat on for the time being.