Sometimes it seems like yesterday that our home was filled with the sound of puppies playing. Other times it seems like a lifetime ago. The very first litter we bred is now a year old on May 15th, 2022. Affectionately called the Seedling Litter, these pups have grown, and have made huge steps towards their future as service dogs. We are super excited that our litter will be covering a vast array of different service dog duties. It is a very exciting milestone for the maiden Growing Up Guide Pup litter to be placed across so many different regions of the US, and performing so many jobs. PTSD work, mobility work, guide dog work, autism assistance, wheelchair assistance, item retrieval and button pushing assistance.
Poppy was the first born, and she was donated to Cascade Service Dogs in Olympia, Washington. As a baby puppy she was pretty much fearless. She loved to explore anything new, and she was always the first to greet us to climb up into our laps. She is now a dog that absolutely loves to be with someone all the time. She is super smart, and loves to work. We just got word that she has been matched with a Veteran for PTSD work, and will be finishing her training with her partner. We are super excited that Poppy has her forever person. Pixie's first born pup has found her way!
Fig was the second puppy born. He was donated to Phoenix Assistance Dogs in Lititz, Pennsylvania. As a baby puppy he was super easy going. He was easy to handle, and we liked to call him the gentleman of the litter. We got updates throughout the year about Fig. We were told that he never met a person, or other dogs that he didn't like. He was great with everyone including children. As a young puppy he struggled with car rides though; he really wasn't a fan. His puppy raiser worked really hard on this, and he did seem to overcome it for the most part. But a few months ago we were told that he was getting stressed while working in public. It got to the point that he was refusing treats. The decision was made that Fig really didn't want the working life, and he was released from training. He was adopted by a family with kids, and another dog. His new family has been kind enough to stay in touch, and share photos of him with us. He seems to have hit the jackpot with such a loving family.
Maple was the third puppy born. She was also donated to Phoenix Assistance Dogs. As a baby puppy she was probably one of the most even tempered. She was friendly but not as pushy for attention as Poppy. She was not easily phased by anything. She was excited to explore new things, but was patient about waiting her turn for individual attention. Maple has been matched, and is training to be an assistance dog for the founder of Phoenix Assistance Dogs. This is a huge honor for us. Maple will have such an important role with the organization. Maple is eager to learn, and seems to love to work. She is also very outgoing, and at times, perhaps a little too friendly. So far she has earned her AKC Tricks Novice Title. She is learning skills like walking calmly next to a wheelchair, pushing buttons, and retrieving items. We are very excited to watch Maple blossom, and continue to learn the skills she will need for her future job alongside the founder.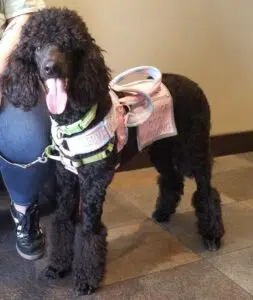 Ivy was the fourth puppy born, and the smallest of the litter. She was sent to be raised, and trained by a good friend of ours up In Washington State. As a baby puppy Ivy moved to the beat of her own drum. She was inquisitive, and always trying to figure things out. Sometimes she would try to get things that were out of her reach because she was curious about them. Ivy loves to train. She is highly food motivated, and eager to please. She learns things very quickly, and she loves a good challenge. She is also quite hug-gable, and insists on being with someone all the time. She is the perfect combination of confidant but also cautious when needed. She joined Pixie and I on a trip to Orlando this past January. I was blown away with how well she did on such a big trip while still such a young pup. Ivy came back to live with us about 2 months ago, and she has made herself right at home. She gets along well with all the other dogs, especially her mom Pixie. They have a very special bond. Ivy is officially on Growing Up Guide Pup breeder watch. Although we are continuing to keep her puppy in training status until we make a final decision about her future. We will soon start some of her preliminary health testing as a future breeder, and continue to see how she matures. We are hopeful that she is what we are looking for to continually advance our Service Dog Litter Project operational program.
Reed was the Fifth puppy born. His donation was to a combination of owner trainer, and organization. He was matched with a visually impaired friend to be her next guide dog. He is being raised by a close friend of the user under the guidance of Custom Canines Service Dog Academy in Madison, Wisconsin. Custom Canines will also do Reeds formal guide work training when he is ready. As a baby puppy Reed was very mellow and quite focused on us. He was super eager for attention from us, but also extremely patient. We had a camera on the puppies at all times while they were with us. I would watch the video feed of the puppy area. Reed would sit at the door, and wait patiently whenever we would leave the area waiting for us to return. Even at a very young age Reed was eager to train and learn. We are told that Reed is still very eager to work, and thrives in busy settings. He is a go, go, go guy and is still working on settling for long periods. He is already learning to target things like garbage cans for his partner. He is also being introduced to wearing a guide dog harness. Reed's puppy raiser, and future handler absolutely adore him. They have so many great things to say about him. We can't wait to see what adventures Reed, and his partner go on in the future.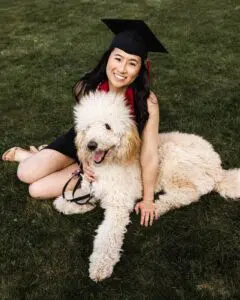 Birch was puppy number six to be born. He was also donated to Cascade Service Dogs. Birch was a quiet puppy, inquisitive but also cautious at times. Birch has been to college and has recently accompanied his puppy raiser to her graduation ceremony. Birch needed a little time for his confidence to grow when he was a younger puppy. Just like his mother. But it seems like Birch is blossoming, and is just returning to Cascade Service Dogs from his puppy raiser. Birch is a fairly big boy, and he will be evaluated for mobility service dog work. Birch has not been officially matched, but we are hopeful that he will excel in advanced training, and find his forever person. We look forward to getting continued updates on his progress.
Oak was the final puppy to be born, and was the biggest puppy to be handed out. He was also donated to Phoenix Assistance Dogs. Oak is part of their owner trainer program, and has been matched as an Autism Assistance Dog. As a baby puppy, Oak was fearless, eager to explore everything, eager to please at times, but very sassy at times as well. He was always eager to cuddle when he got tired. Oak is doing well in his training, and his family has shared photos with us. It is pretty obvious to us that Oak, and his boy have formed a special bond. We hope that he continues to mature, and officially graduates doing Autism assistance.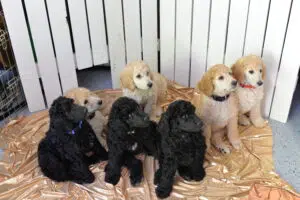 The Seedling Litter will always be very special to us. They represent our very first breeding of a Sire and Dam which amazingly was accomplished on the very first attempt. Pixie and Rio's Seedling Litter was probably the easiest litter of puppies we have worked with so far. We carefully selected where each puppy would go based on their personalities, and what the organizations trained for. To say that we are happy with the results of this litter is an understatement. Six out of seven have a good chance of graduating as service dogs. I know that none of them have officially graduated yet, but the future for them is looking very promising. We can't thank the organizations, and puppy raisers enough for the hard work they have done with our puppies. The communication, and feedback with everyone has been a dream come true. We are currently planning for litter number two with Pixie in hopes to have more service dog prospects to donate again. Hopefully next year Ivy will be able to step into the role of mom as well. Thank you to everyone who made creating this litter possible, and we are stoked to see such a high success rate on our maiden voyage at Growing Up Guide Pup.