---
Written by Amie Chapman
---
Boy, has our little Penny grown, and not just in size! In just one month she has grown from looking like a puppy to now being taller and heavier than Ricki. She is now just under 70 lbs and about to turn six months old. The other big change in Penny is her confidence level. She is not the same timid puppy that she was a month or two ago.
This summer, I focused most of her training on building her confidence and it worked. She still has more improvements to make, but the difference in her is like night and day. She used to walk slowly and timidly out in public. She also used to need to look at every little thing and analyze it—was it something scary that needed to be avoided, or was it something that we could just walk on past?
Now the puppy that once needed some coaxing to walk in public tries to lead me and needs reminders to slow down and walk right next to me. Penny is a big strong girl now and this is our current main focus. Even a slight pull on her leash when walking feels like I am being pulled by a horse.
"But to do the trip this time we were required to fly—I just couldn't get enough time off work to take the extra time to drive. This would mean taking five-month-old Penny through a busy airport and on a two-hour plane ride."
When we first started taking her to restaurants, she had a very hard time settling under the table.
She didn't seem to like being confined or laying on the hard ground. Penny would constantly try to back out from under the table or refuse to stay in a down position. I would have to repeatedly remind her and help her lay back down, which of course made it really hard for me to eat when my food arrived. We even had issues with her whining the first few times, which meant that I would have to get up and take her out of the restaurant and get her calm again before going back in. But all that hard work and eating cold food paid off. She is now very comfortable going out to eat, settles under the table on her own, and only moves to reposition herself.
With Penny's newfound confidence, her outings have also gotten bigger.
We rode public transit for the first time. Even though I had to carry her up the stairs to board her first commuter train, on her second trip she walked right aboard. She has even been on the Bay Area's version of a subway, BART. These trains are extremely loud and not nearly as smooth as the Caltrain trains and can be very intimidating for any dog, let alone a young puppy. But after riding it twice she slept soundly on her third ride.
A few weeks ago, Brigadoon Service Dogs had their annual fundraising dinner and auction and Matt and I decided to go. This was the perfect opportunity for us to have the chance to meet other puppy raisers, staff, volunteers, and graduates from Brigadoon. But to do the trip this time we were required to fly—I just couldn't get enough time off work to take the extra time to drive. This would mean taking five-month-old Penny through a busy airport and on a two-hour plane ride.
I was very nervous to do this; flying with a puppy in training is a huge step and can be very stressful for the raiser and the puppy both. It takes a very confident puppy to handle going through security, walking through busy terminals with people walking, rolling luggage, and carts going by, sitting still in tight quarters for a long period of time, and holding their bladders and bowels for a long period of time.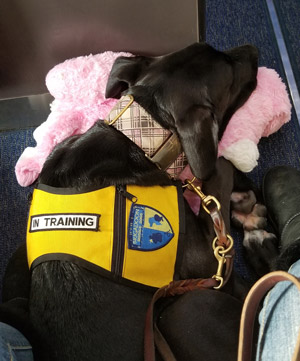 Penny surprised us with how well she handled it all.
She was a little nervous about walking next to our suitcase on wheels, but did great going through security. The terminal was a little overwhelming, but she did handle it well. She had no issues boarding the plane and lying down, but did have a hard time keeping her long legs out of the aisle. Unfortunately, we were running a little late trying to get Penny to potty one last time before entering the airport (which she refused to do) and were the last to board. Penny and I were seated in the bulkhead row, but had the aisle seat. Matt was seated in the window seat on the opposite side of the aisle. I had a very hard time keeping Penny out of the foot space of the person next to me and her head and front feet out of the aisle—she is just a little too long. But we made it through the flight without any major issues. I did bring her snuggle bunny on board with us and she curled up with it and slept for part of the flight.
We were very happy with our decision to attend.
We met so many great people who are part of and/or support the organization. Even though they are a small organization, they touch the lives of so many people. From the volunteers who help out with running the day-to-day operations, to the few staff members who work with the dogs, to the inmates in the prison program who train the dogs and learn just as much from dogs as the dogs do from them, to the graduates who have their lives improved by their dogs.
"From the time we dropped the puppies off at Brigadoon, I have felt a sense of peace and comfort that they were in a great place for them. … I am falling in love with this organization for so many reasons but the big one is their passion."
The feeling at the dinner was like attending a big family event.
A lot of attendees seemed to know one another, and those that they didn't know were given a warm welcome. Penny was also a big hit. Many people knew her brother Bernard and her sister Bianca and were really excited to finally meet the "other" puppy of the litter. We were told by many that Bernard and Bianca were very energetic and goofy puppies, but also extremely loveable and friendly. They seemed to be big favorites of the training staff and the volunteers who have worked with them. Unfortunately we didn't get a chance to see them because they had already been placed with inmates in the prison program. But we did get a chance to speak with one of the staff members from the facility that Bianca is in and she had nothing but great things to say about Bianca.
From the time we dropped the puppies off at Brigadoon, I have felt a sense of peace and comfort that they were in a great place for them. After attending this event and having a chance to talk with the people working with Bernard and Bianca, that feeling has grown even more. I am falling in love with this organization for so many reasons but the big one is their passion. The passion of working with their dogs, the care that their dogs receive, the work they do with the inmates, and for their clients that receive their dogs.
We flew in the day of the dinner and the next day we dropped Penny off at Brigadoon for her to stay with them for a few days.
Matt and I really needed a few days to ourselves and we planned our little vacation around the dinner. That way we could attend and we could have the perfect place for Penny to stay. As much as I love all our dogs, we had not had a trip to ourselves without any dogs in six years. This was also the perfect chance for the trainers to spend some time with Penny and give us some feedback on how she was doing.
Every service dog organization is different and we have to raise each puppy by protocols set in place by the organization we are raising for. This is our first time training a puppy from the very start using only positive reinforcement, and I wanted to make sure that we were handling Penny the way we were asked and that she was progressing well. I really wanted the feedback so I knew that we were on the right track.
Arturo was raised using positive reinforcement, but when we took over his training he already knew the commands that a raiser was supposed to train, he just needed a little fine tuning. Patrick was raised using a correction method without food for almost every aspect of his training. We were given permission to use a small amount of food to try and help him through his dog reactivity issues, but once he turned a year old we were told no more food rewards for him.
Raising for multiple organizations now, it has been a little challenging for me to retrain myself to the various ways of training. But I have to say that because of Penny being a puppy with a softer temperament, the positive-reinforcement training has been a great match for her. And even though I am being challenged with learning yet another way of dog training, I too am learning a lot and enjoying it. I have personally always prefered to use food rewards when training a puppy, but it is sometimes inconvenient to always have to carry dog treats on me wherever I go with a puppy. Not to mention the treat residue on your fingers along with the dog slobber isn't always the best. But I have found that the puppies learn things faster and seem to understand what is expected from them a lot easier.
When we picked Penny up after her short three-day stay at Brigadoon, I was pleasantly surprised to hear that she did very well with them. I was very concerned about her being stressed in their kennels, as she is still having some stress being in the kennel at my work (though she is now very comfortable being in her kennel at home). Penny was very happy to see us, but it was also great to see that she was already comfortable and bonding with the trainers there. She didn't seem stressed at all and was happy and comfortable being there. Penny really hasn't been handled by anyone other than Matt and me, and is very bonded with me in particular. This was another great reason to have her stay at Brigadoon for a few days, to see how she would handle being separated from us. Being able to do this is very important for to become a service dog and she proved that she can handle it.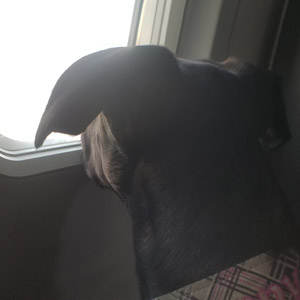 Penny handled the trip home just as well as the trip to Washington.
This time we got priority boarding, got the window seat in bulkhead, and Matt and I got to sit together. Penny had a little bit more room to stretch her long legs and was a little more comfortable. She did however discover the window and was very curious about what was on the other side. But overall she did amazing for such a young puppy.
---
Jump forward two weeks to this past weekend, and Penny went for an even bigger trip, this time to Minnesota.
Matt has been submitting our series to various Web Series Festivals for multiple years now and we have been accepted to multiple festivals. This past weekend was the first ever Minnesota Web Fest and we decided to attend. We try to attend the festivals we are accepted to, but we can't attend all of them. The ones outside the country can be especially difficult. Plus it is expensive to travel to these events.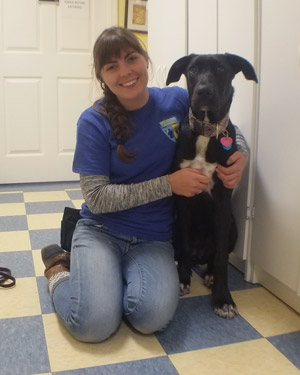 We chose to attend the one in Minnesota because we have gotten to know George, the founder of the festival, and we also have friends who live in the area. Nicole and Devon were so gracious to let us crash with them. Kellie was so kind to drive us around so we didn't have to rent a car. There was no way we would have been able to attend the festival if it wasn't for them. We can't thank the service community enough for coming together and helping us!
Of course, going to Minnesota meant another airplane ride for Penny.
This time we flew out of San Francisco Airport (on the other trip, we flew out of Oakland). SFO is a bigger and busier airport than Penny's first experience. This time, Penny was much more confident and relaxed as we walked through security and the terminal. We also didn't sit in the bulkhead row and Penny had to lay under the seats in front of us. I have been practicing with her laying under chairs to help prepare her for this. She walked right onto the plane, and settled down under the seats and was super good the entire four-hour flight. She even held her bladder from our house to our friends house in Minnesota. She was given opportunities to use the pet relief area in the terminal at San Francisco and again at the pet area outside the airport in Minneapolis, but she didn't like those options.
Penny immediately hit if off with our friend Nicole's guide dog Figaro. They were inseparable all weekend. They played so well together and even napped next to each other. We also met up with our friend Kellie and her service dog Justine. Penny was very polite with her as well as Nicole's retired guide Picassa. Penny did pretty well staying at someone else's house.
We all went to the festival together.
This particular festival was only one day; a lot of the others are multiple days. We had some great photo opportunities with the dogs and they were all very good representatives of service dogs. We were nominated for an award for best documentary series, but once again came home empty-handed. We have been nominated for at least one award in all the web series festivals that we have been accepted into, but we just keep coming home without a win. I'm beginning to feel like we are the Susan Lucci of the web series world, always thankful for the nomination but we really would like a win for the service dog community.
The day after the festival we all went to The Mall of America.
That place is huge! Penny was a little overwhelmed and had a hard time walking without pulling at first, but did settle down. At one point we were on the third floor looking over the railing, and she was very uncertain about the people walking around on the main floor and let out a couple of barks. "What are those little things walking around?!"
The other thing I noticed while walking around the mall was the reaction of the people there. Some people thought the dogs were really great to watch navigate the mall, but others were outright frightened of Penny. At one point, we separated from the group to get Penny some water and in a span of about five minutes, I passed three separate people who were completely terrified of us. One person jumped of our way, one person actually screamed and darted away, and the the third person backed against the wall and tried to scoot away from us, leaning on the wall, but then realized we were going the same direction and then ran. I guess being a big tourist spot, some people are not accustomed to seeing service dogs in a public place. But overall we had a lot of fun that day with our friends.
For the trip home, I don't think that we could have asked Penny to be any better behaved than she was.
She was almost perfect. She went through security like a pro and navigated the terminal with no problem. We even passed multiple airport comfort dogs (even a Great Dane) interacting with the travelers in the terminal. This time we had two flights. She boarded the first plane—once again with an hour-and-a-half delay—with ease, settled right under the seat, and slept the entire flight.
We got into Denver with just enough time to get off one plane, use the restroom, and try to get Penny to relieve in the terminal pet relief area (once again, it was a no-go), and get in line to board the next plane. When we go in line to board we did have a bit of an access issue with Penny (stay tuned for more about that, it is a work in progress) but we were eventually allowed to board. We were the last passengers to get on the plane. When we got to our seats, someone was sitting in Matt's seat so we had to do a little dance to get that person out and us in.
I actually had to have Penny wait in the aisle past our seat and then have her back up until we reached our row again (there wasn't enough room for her to turn around), a skill she has never done before. She did it without hesitation or problem and then went right under the seat and settled in. All of this in front of a plane full of people. I heard a few quiet comments from some of the passengers about what an amazing dog she was. Of course, as her raiser that makes me very proud of my girl. She once again slept almost the entire flight and only got a little antsy about 20 minutes before we landed.
As you can see, Penny has done so much in the last month and I couldn't be more proud of how she is progressing. She has worked very hard and with every outing we do with her you can actually see the improvements she is making the very next time she is out in public. She is an absolute joy to raise and I can't wait to update everyone next month on the new things that she will be doing.
---