Written by guest blogger Marcia J. Wick, The Write Sisters
Photography by Jennifer M. Walford, The Write Sisters
---
My guide dog, Viviane, is easier to tuck into bed than either of my children ever were.
I simply say, "Go to bed," and my devoted yellow Lab, Vivi, turns direction mid-step and heads to collapse onto her favorite pad. Often, I don't even have to voice the suggestion. My guide dog adheres to the schedule we have followed for three years and tucks herself into bed without being told!
At bedtime, after I've showered and wrapped myself in my matching yellow terrycloth robe, my first desire is to seek her out and make sure she is snugly tucked into bed. With gratitude, I collapse onto my knees and ease up to her, reaching out a hand to discover if her head is curled to the left or the right.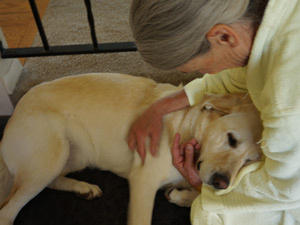 I orient myself to the serene shape of my partner by the direction of her fur, the feel of her flanks and the contour of her spine. I lean over my target and she actually shudders as I whisper into her ear, "Go to bed." I assure her that she is such a good dog, and I thank her for taking special care of me every day. I don't want her to move a muscle after all the effort she put into her work day.
On this day, Viviane accompanied me to an early morning swim session at the gym, and later she negotiated the pedestrian traffic to guide me from the city bus to a public meeting downtown. After lying patiently at my feet for two hours, she perked up quickly to navigate our way back to the bus, with another quick errand along the way before heading home. Her willingness to work for me without the slightest hint of hesitation enhances and expands the potential of each day for me.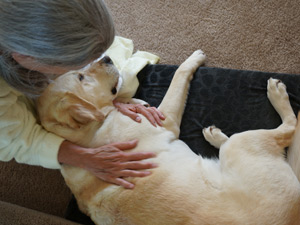 Viviane is more than precious.
Showing my appreciation, I feel for her bushy tail and gently massage her muscular hind legs, grateful for her strength and good health. Vivi rolls to offer her soft tummy to me, but I delay her wishes for a belly rub while I whisper in her velveteen ears that she is a "good dog."
She lets out a slow sigh and shifts slightly to expose her soft belly, even more than before.
And so, I indulge pretty Viviane with the soothing belly rub she deserves!
I count my blessings in discovering such a soulmate. Vivi is my first guide dog, but I am coming to know other guide dog handlers who have put to rest two, three, five or even seven precious partners, and I gape at their fortitude and strength.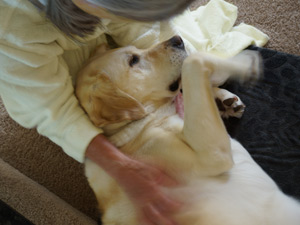 I cherish the gift of my loving guide, Viviane, as I tuck her into bed each evening.
We'll celebrate her fifth birthday and our third anniversary together this summer, and I count my blessings at the end of each day at Vivi's bedtime.
---
Marcia J. Wick is a guide dog handler.
---