---
---
At some point in the journey of every service dog puppy raiser, the puppy moves on to next stage of their life. Some will be career-changed or released from the program they started with, and others will go on to the next phase of training. If puppies go on to more training, this is when they leave their puppy raisers. This for me is the hardest part of the process, and I recently had to hand Penny over to Brigadoon Service Dogs so she could take the next step in her journey to become a service dog.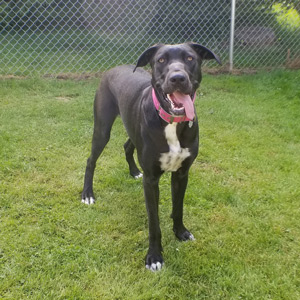 With all of our previous puppies we were given at least a month's notice before we turned them in to the organizations.
But with Penny, things happened a little differently. This was partly because Brigadoon runs differently than either of the two other organizations that we have raised for, partly because of uncontrollable events.
One of the co-founders of Brigadoon, Leon, just passed away, and Matt and I decided to make the trip up to Washington to attend his memorial services. Brigadoon is a very small organization, and it was important for us to be there to support them. When we let them know that we would be there, we were told that it would be a good time to bring Penny with us so she could stay behind and begin advanced training.
Normally we have time to prepare ourselves mentally; we have a chance to do some "lasts" with our puppy. We try to do all of that puppy's favorite things, make sure they see their favorite people and dog friends. After all, when I have had a puppy for a year or more and help them grow and develop, it can be hard on my heart to let them go. I know that when I take on a new puppy that I will have to one day say goodbye, and it is part of the process.
"I have always wondered if other people could see the same potential that I saw in them as baby puppies, and they do."
When we turned puppies in for Guide Dogs for the Blind, all puppies were turned in on a weekend.
We could choose which day (Saturday or Sunday), and what time we took our puppies to the kennel (as long as it was during kennel hours). I also had the choice to walk the puppies to their kennel or hand the leash off to a kennel attendant. I always had the attendant take our puppies from us so that they didn't see me leave them. When we turned Patrick in, we had a set date and time for turn-in. There was a luncheon and then we loaded Patrick up into their training vans for transport to the kennels.
Turning Penny in for training was a very different process from any other puppy. I will be the first to admit that we got very unusual and somewhat special treatment. How things went for us is not the normal procedure. We flew in on a Thursday morning and drove to Tahoma National Cemetery for a military memorial service, it was a beautiful service. Matt and I had a chance to meet and talk with employees who work at the correctional facilities where Penny's siblings, Bernard and Bianca, have been training. It was nice to hear that everyone is very fond of the two of them and how sweet everyone thinks they are. I have always wondered if other people could see the same potential that I saw in them as baby puppies, and they do. They were all happy to meet the "other" sibling as well.
After the service we drove to Brigadoon.
Denise was very kind to let us stay in a small room above the team training room. She even let Penny stay with us rather than putting her in the kennels right away. We had planned to stay for multiple days and we were able to get Penny comfortable with the grounds and the people who work and volunteer at Brigadoon gradually over that time.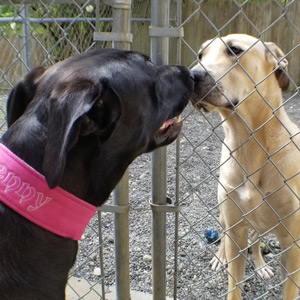 The day after we arrived we took some time with Penny and explored the area, and what a beautiful area it is. We visited the downtown area for the first time and also checked out some of the different neighborhoods. We had a chance to see Bianca, whom we hadn't seen since we dropped her off at 10 weeks old. She had grown so much, but was just as beautiful as she was as a puppy. Her temperament was very similar to Penny's. She was shy and a little wary of people that she didn't know, but warmed up very quickly. She was still very sweet and gentle. She didn't recognize us right away, but I do think that after a little while she started to remember.
On Saturday, we had a chance to reunite Penny and Bianca with the help of one of the volunteers who helps take care of the dogs. We first let Penny and Bianca see each other through a fence, with each dog in her own area. After we gave them a few minutes to sniff and check each other out, we let them in one of the enclosed pens together. They were both so happy and immediately started playing together. Penny is actually a bit bigger than her sister and I don't think that Bianca was used to being around a dog bigger than she is. After we saw that they were going to get along well, we let them into the very large play area where they were free to run to their hearts' desire. What an amazing sight it was to see both dogs running together. When Penny can run full out it is quite a beautiful thing.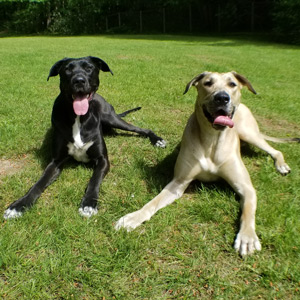 Another volunteer joined us in the play yard.
Penny had been very wary of him earlier in the morning, but when she was in the play yard with Bianca and saw that Bianca was friends with him she was much more relaxed. He started playing fetch with the girls and that really helped Penny trust him. This was exactly what Penny needed. She needed to learn to trust the people at Brigadoon and see that it was a place where she would be safe and have fun.
Later that morning we helped set up for a reception for Leon being held at Brigadoon. While we helped, Penny had a chance to get acclimated with the kennels. This was a very important thing for Penny—kennel stress along with trusting people she didn't know were my biggest worries about her. So an introduction to the kennels while we were still there was nice for all of us. She had a chance to learn the routine of the kennel and meet more of the people who help out and care for the dogs.
Once again the reception was lovely.
We learned what an amazing person Leon was and how Brigadoon wouldn't be here without his help. Many wonderful stories were told about him and both Matt and I wished that we had a chance to get to know him. We were both reminded again why we fell in love with this small but wonderful organization.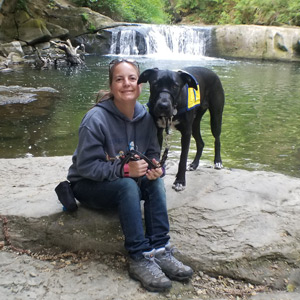 After the reception we took Penny for a walk at a local park that was absolutely beautiful, with waterfalls included. While on the walk we met a really nice woman who had adopted a released dog from Brigadoon. She too had nothing but great things to say about Brigadoon as an organization and the people who are a part of it. We got some of our last pictures with Penny and got ourselves prepared to spend our last night with her. Sometimes you just don't want that night to end.
Spending the day in the kennel and probably feeling our emotional stress started to get to Penny and she did throw up in the car on the way back to Brigadoon. She hadn't fully finished her breakfast or her dinner the night before either, so it was pretty obvious that she was feeling a little stressed about the change of routine. I spent some time cuddling with her that night and reassuring her that she will be in good hands. She was pretty exhausted and slept really well that night.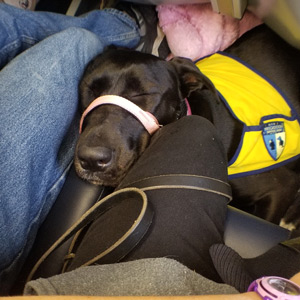 The next morning she didn't really want to eat, but I took her out for some playtime and then she was more relaxed and ate a little bit for me. We let her hang out in the large play yard while we took a chance to play with the absolutely adorable six-week-old litter of collie puppies that Denise's own personal dog had. I can't resist puppies! Penny was definitely enjoying her time outside in the grass and trees.
Then it was time to pack up our things and get ready to drive to Seattle to catch our flight home. Penny was set up in her kennel and hanging out with one of the trainers. While I packed up, Matt spent some one-on-one time with Bianca and when I finished packing I took some time to play with her as well. And then we had one final play session with Penny. She absolutely loved being outside there; that is all she wanted to do almost the entire weekend. Once again, I didn't want it to end and leave for home.
When it was finally time for us to leave, we took Penny to her kennel. We left her "My Little Pony" blanket, a few of her favorite toys, her pink elephant, and of course her pink bunny. This was the first time we were able to leave something familiar with any of our puppies.
"… there is a part of me that is hoping that I do get that call that Penny wants to come back to us, but there is also a part of me that really hopes that she excels without me and goes on to do great things for someone that really needs her more than I do."
People may think I'm weird or crazy, but each puppy I drop off I talk to them and I hope that they understand what I am saying.
I tell them how proud of them I am and that they are destined to do great things, no matter what their path is. Penny was no different. As I hugged her goodbye I told her how much I loved her and how proud I am of her. That her future was her choice, if the stress was too much for her to let someone know and that they would call me to come get her, but I really wanted to her give this training a chance before she decided. I told her that I will be forever grateful for having her in my life and that she helped make me whole again even though she will always have a piece of my heart. Each puppy we raise is special, each different and unique. With each one the experience and lessons I learn from them is just as unique as each puppy.
With Penny, she is special for so many reasons.
She is the first puppy that we got to name. She is the first puppy that we got to actually choose to be the puppy we raised. She is the first puppy that was as big as I am. And probably the biggest reason that she is special is that she came into my life when I needed her the most. Along with letting go of Bianca and Bernard first, it was being able to raise Penny for the last year that showed me that I can still be a puppy raiser. My heart was very fragile but she helped heal me as a person that I don't think that I am able to fully explain. Penny has a very powerful thing about her and I have seen her make other people who are emotionally hurting feel better. She seems to know and her gentle loving nature (and pushy need to hug) has some sort of magic.
Now I will be totally honest, there is a part of me that is hoping that I do get that call that Penny wants to come back to us, but there is also a part of me that really hopes that she excels without me and goes on to do great things for someone that really needs her more than I do. I know that she is in great hands with Denise and the crew at Brigadoon. The love and care they give their dogs is why I chose to place all three puppies with them. I know that they will do what is best for each of them. When we landed from our flight home we had a text message waiting for us letting us know that Penny had eaten all of her dinner, a good sign that she wasn't too stressed out and adjusting already. Six days after we left Penny we got a short video of her playing fetch with one of the board members and volunteer, she looked so happy. We even got another short video of her in her kennel snuggled up and sucking on her bunny, so I know that they are doing everything they can to keep Penny happy, comfortable, and on the path to becoming a service dog.
So what is next for Penny?
There is a chance that she might head to one of the correctional facilities and start learning more defined skills. The inmates are a huge part in almost all the Brigadoon dogs leaning the skills they need to assist someone. Almost like intermediate training. We did the foundation work, the inmates will do more advanced work and then the staff at Brigadoon will do the fine tuning when it is clear what type of work will be best suited for Penny. She still has about another year's worth of training and learning ahead of her and we will eagerly await to see what path she chooses.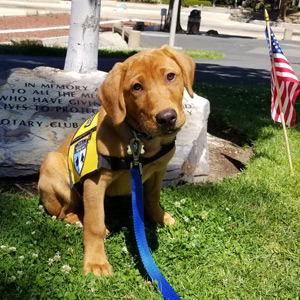 And what is next for us?
Well Oscar is … we didn't come home empty-handed. Like I said, we love this organization and want to continue to support them. We brought home with us a super eager to learn and energetic 15-week-old fox red Labrador puppy. So our next adventure is just beginning and hopefully now after our latest trip, a long relationship with Brigadoon Service Dogs. So stay tuned for more on the adventures with Oscar …so far he looks like he is going to be a really fun guy!
---