---
Written by Amie and Matt Chapman
---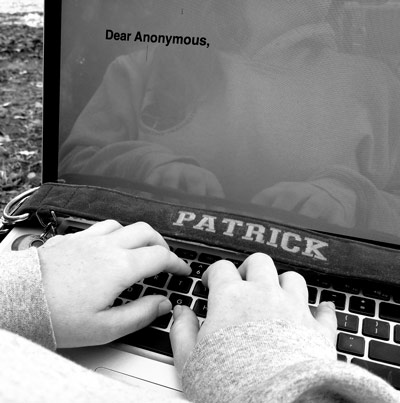 Dear Anonymous,
You were given a beautiful male German Shepherd named Patrick a few months ago. We don't know if his name is still Patrick — maybe you changed it. You were probably never told anything about us. We had Patrick from the time he was 10 weeks old until he was 18 months old. We raised him with the hopes that he would become a guide dog and help someone who was visually impaired, but it turns out that wasn't the path chosen for him, as he is now with you. We potty trained him, taught him basic obedience, got him comfortable being in public, taught him to settle quietly, played with him for hours, took him everywhere with us, and gave him unconditional love.
We raised 15 other puppies before Patrick and have always had a chance to share information like this about our puppies to their new owners. So here is some fun information about Patrick that the organization that you acquired him from probably didn't know and or didn't tell you.
Patrick is an amazing dog.
Hopefully you have realized that already. There are many layers to Patrick — he is super smart and loves to learn new things. He is eager to please but definitely has a mind of his own. He is energetic, goofy, friendly with all people and gentle with children. He grew up with the two of us, our two dogs, Ricki and Ozzy, and our two cats, Bagheera and Autumn. He had multiple dog friends but his absolute favorite was a Golden retriever named Sierra, who is only a few days younger than Patrick. They grew up together and loved to play and snuggle.
He is always eager to go somewhere, anywhere with you. He has traveled by car, bus, train, and airplane. He has taken trips with us to Vancouver Canada, Montana, and Florida as well as throughout California. He has been to all types of places from web series festivals, Universal Studios, malls, grocery stores, restaurants, movie theaters, and more. He loves going to new places. He loves toys more than any other puppy we have raised, and never met a toy that he didn't like. He was super fond of his large stuffed pterodactyls. He can play fetch for hours and if you try to ignore him he will bring toys to you and drop them in your lap or at your feet. His absolute favorite toy to play fetch with on the planet is a frisbee (we have a box of his favorite sitting in our garage, which we were hoping to give back to him once he was with his forever person). He loves, loves, loves to jump up and catch them as they soar through the air. He is extremely athletic. He isn't a super big cuddler, but when he is in the mood he will lay with his head in your lap.
When working with him he likes to be told that he did "a good job", preferably in a goofy voice and pronouncing his name Patwick. After a good training session we would ask him "Patwick, did you do a good job" in a silly voice over and over again. He would sing in delight, wag his tail, and look so proud of himself. His other favorite thing was when we cupped our hands and rubbed across the bridge of his nose.
Patrick also loves to dress up, you can put almost anything on him.
He was a policeman the first Halloween we had him and a wolf in sheep's clothing the second. He would wear hats, sunglasses, and we even dressed him in construction gear and called him our foreman when we started repairs on our home.
Patrick isn't perfect. He has an issue at barking at dogs that he doesn't know, even if he sees them out a car window. He will pester you constantly to play when he has the urge, but his goofy head tilt and sweet smile will be hard to resist. He is really bad about hitting his front leg when he pees, but he is also very good about standing still as you clean him off. He doesn't really like baths, but will behave nicely as you give him one. He is prone to getting ear infections after baths. He ears look fine on the outside but he will let you know when his ears bother him by scratching them and whining in discomfort as he does so. Because of this he is very sensitive about having his ear looked at, so be gentle with him about it.
We have no idea if this letter will reach you, we just want you to know that that we miss him dearly and wish we could have closure that he is happy, loved, will be allowed to be and accepted for who he is. All we want is for him to be special to someone, like he was to us. Many people followed us as we raised him as we documented his puppyhood with a web series called Growing Up Guide Pup, and they too would love to know that he is doing well.
We were given absolutely no information about what his new career path is or where it will take him.
If he is with a family and has a warm comfortable bed to sleep on at night or if he will live a kennel life. We had wanted to make him an animal actor if he had come back to us—he has an amazing ability to shine in front of the camera. We would love for you to reconsider your decision on not allowing us any information about Patrick. If you would just let us know what type of work he is doing and that he is happy and well adjusted. We would greatly appreciate it.
Sincerely,
Patrick's Puppy Raisers,
Amie and Matt Chapman
---