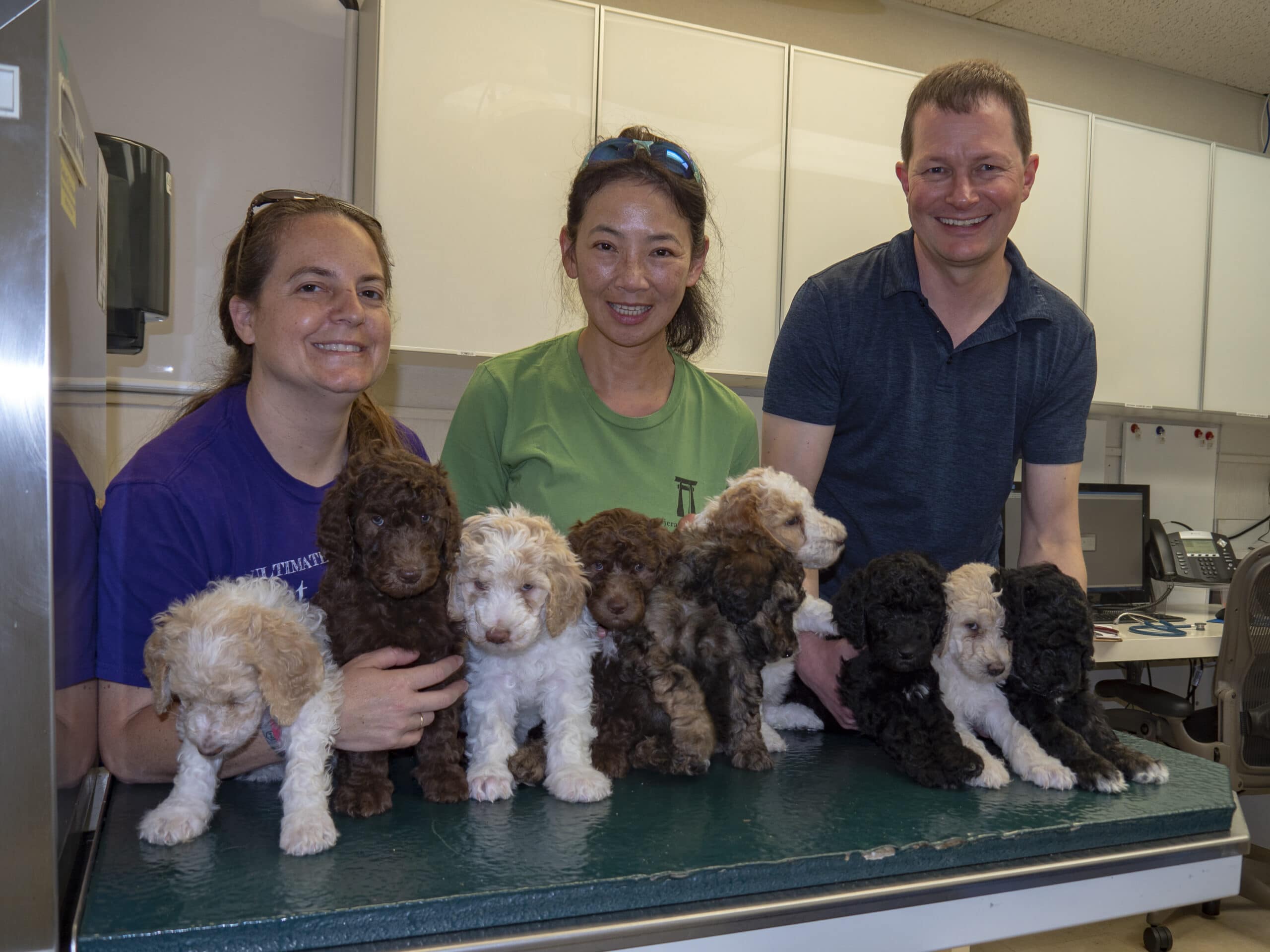 Puppies from left to right: Pixie, Edison, Paddington, Carmin, Trudy, Tango, Ollie, Scarlett, and Hampton
Pixie turns two this month. How did that happen?! It seems like it was just yesterday that we were doing the flight of the bumblebee to clear out one of our bedrooms and prep it for a soon to arrive litter of puppies. Now here we are two years later.
Pixie sure has grown a lot this last year and I'm sure all her siblings have too. All nine of the puppies from the litter are now in their permanent placements and we couldn't be more proud of how they have turned out. We were told by the women who bred the litter that she has had multiple service dogs come from her line of poodles so I guess that we shouldn't be surprised that seven of the nine had what it took for service dog work.
So where is everyone now? Scarlett (Ms. Red) was released from training this past winter because of car sickness and some fear issues and was adopted by a loving family. Tango ( Mr. Green) was matched with a person with Multiple sclerosis (MS). Gurtrude, aka Trudy (Ms, Purple) was released as a puppy and adopted by a loving family. Unfortunately she never really had a chance to train and it is unknown what her full potential really could have been. Hampton (Mr. Blue) was placed with a handler and appears to be doing well, but we've not been informed about what types of tasks he is trained to do. Carmin (Ms. Orange) was matched with a veteran through a organization called 4 Paws 4 Patriots. Oliver, aka Ollie, ( Mr. Pink) was matched with a teen who uses a wheelchair. Paddington. Aka Paddy, (Mr. Yellow) was the last of the litter to be matched. He was matched by Brigadoon Service Dogs and went to a veteran. Last but not least there is Edison ( Mr. Gray) who has been matched with a teenager with POTS (Postural orthostatic tachycardia syndrome) and doing fantastic.
This was a very successful litter and what a wide variety of disabilities they are helping to assist. As baby puppies they were an absolute joy to raise, but also kept us on our toes. I will never forget when the puppies were about 6 weeks old and we put everyone to bed for the night. I was in bed ready to drift off to sleep and heard the quietest whine. I went downstairs and saw Edison sitting outside the puppy pen. That was the first time he figured out how to climb out of their enclosure. The next week I was woken up to over half the puppies having an adventure outside the enclosure. It took me almost two hours to clean up the mess they left behind and figure out how to contain them. They ended up having multiple escapes. Let me tell you nine puppies can make a BIG mess.  But other than them being curious puppies who wanted to explore their environment, they were a very quiet, calm, and easy litter to have around. 
Most people don't know this, but Matt and I actually discussed a different type of operational program for Growing Up Guide Pup. We were on a ferry in Washington State with Penny while on a short vacation and we talked about producing puppies and giving them to smaller service dog organizations who need help. Our ideal organization to give puppies to would be an organization that couldn't afford to breed their own puppies or wasn't in a position to have a big group of puppies/ dogs that were all the same age.
Some organizations are so small that they can not accommodate a large litter. They might not have enough raisers available at the same time, or they may not have the means to train the dogs as they get older when they are ready for formal training. Sometimes organizations need to spread out the age of their dogs to be able to maintain the different needs of their dog population properly. In this case an organization may only be able to handle a few dogs the same age or stage at a time.
And then there is the cost of breeding and raising a litter of puppies, it isn't a cheap endeavor. There are the costs of medical screening of the parents. It is important to make sure there are no obvious possible inherited medical issues that could be passed down to the puppies. There are stud fees if you don't have the stud or an arrangement with the owner of the stud. There are supply costs to set up a safe environment for the mom and puppies for the different stages of development during the first eight weeks of life. There are feeding costs. Pixie's mom was eating up to twelve cups of dog food a day when she was nursing, and she still wasn't able to produce enough milk to feed her puppies and we had to purchase formula to supplement them. Weaning the puppies, followed by feeding them from five weeks to eight to ten weeks of age adds up. Then there is the veterinary costs. Prenatal care for the dam, which usually includes x-rays and ultrasounds. Vaccinations and check up for the puppies were needed as well. This all adds up to a huge cost that many small organizations just can't afford into their annual budget, and these organizations often rely on donated puppies from private breeders.
So how does this all tie together with Pixie's 2nd Birthday? Well after seeing that her litter was so successful, we are considering using Pixie to get this program started. Pixie is now officially old enough to start the health pre screening process to see if she has good enough health traits to pass down to another generation. This would include testing genes for possible conditions common for her breed to make sure she is not a carrier. Hips and elbows x-rayed and scored for dysplasia clearance. Heart ultrasounded by a cardiologist to check for any heart issues that can be passed down. And an ophthalmologist for any underlying eye issues.
If Pixie passes all her pre screening tests have a potential stud candidate for her that has a history of producing successful service dogs. But this isn't a program that we can do on our own. We have found the cost of producing and caring for a litter of puppies is very expensive depending on the number of puppies and we have already found a couple of service dog organizations interested once we implement the Service Dog Litter Project plan.
Another part of The Service Dog Litter Project is to bring back our web series. We would love to be able to document the very beginning stages of what goes into creating a service dog. This would require some new equipment and a lot of time and energy to get our footage out in real time. Most people don't fully understand the amount of time it requires to obtain and edit footage to create our series. Depending on how much support we get, that will determine how long our series will go. We hope at a minimum document the first 8-10 weeks until the puppies are dropped off to the organizations receiving them. But being able to follow all the puppies progress as they grow until they are placed would be our ultimate goal. Just like Pixie's litter, it would be amazing to see the different types of disabilities dogs can help mitigate. 
Our series can not only open the door to better understanding of these types of disabilities, but also open the door for lesser known organizations that help place these dogs.These will be organizations that could really benefit from us sharing their stories as well. We can't do what we want to by ourselves anymore, we need help. We will need to travel more than before. Bring on volunteers, get all the supplies we need and create jobs to help make this program the best it can be. 
The Service Dog Litter Project is just one of five new outreach programs we are implementing with your support. Matt is in the process of designing two new websites that we will use for operations. We are going to offer new programs and provide a donation boutique that people can use to help us get the programs operational. We are constantly working on new ideas on how to bring support to the service dog community. We just hope that we can get the funds we require to bring these outreach programs to life.